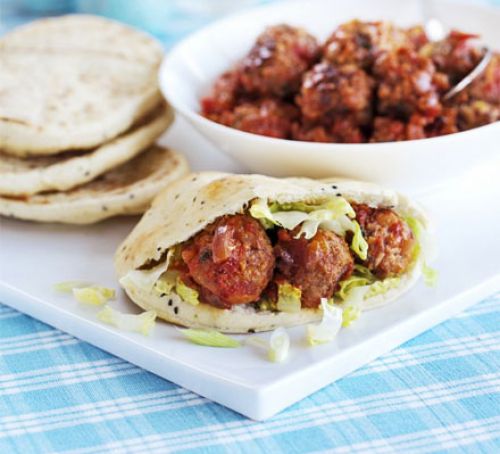 No one can resist meatballs, and this recipe is so moreish you might want to make double and freeze for another time.
Prep Time
    •    Prep time: 10 minutes
    •    Cook time: 20 minutes
    •    Yield: Serves 4
Ingredients
    •    ½ tsp sugar
    •    2 tbsps olive oil
    •    50g fresh breadcrumbs
    •    4 garlic cloves, crushed
    •    500g pack lean lamb mince
    •    400g can chopped tomatoes
    •    pitta bread and salad, to serve
    •    8 dried apricots, finely chopped
    •    ½ 20g pack mint, finely chopped
    •    2 red onions, very finely chopped
    •    2 tsps each ground cumin and coriander (or 4 tsp Moroccan spice blend)
Method
Heat 2 tsp oil in a pan and soften the onions for 5 mins. Add the garlic and spices and cook for a few mins more. Spoon half the onion mixture into a bowl and set aside to cool. Add the tomatoes, sugar and seasoning to the remaining onions in the pan and simmer for about 10 mins until reduced.
Meanwhile, add the mint, lamb, apricots and breadcrumbs to the cooled onions, season and mix well with your hands. Shape into little meatballs.
Heat the rest of the oil in a non-stick pan and fry the meatballs until golden (in batches if you need to). Stir in the sauce with a splash of water and gently cook everything for a few mins until the meatballs are cooked through. Serve with pitta bread and salad.


This great family recipe is thanks to BBC Goodfood Recipes at https://www.bbcgoodfood.com/recipes/665637/lamb-and-apricot-meatballs