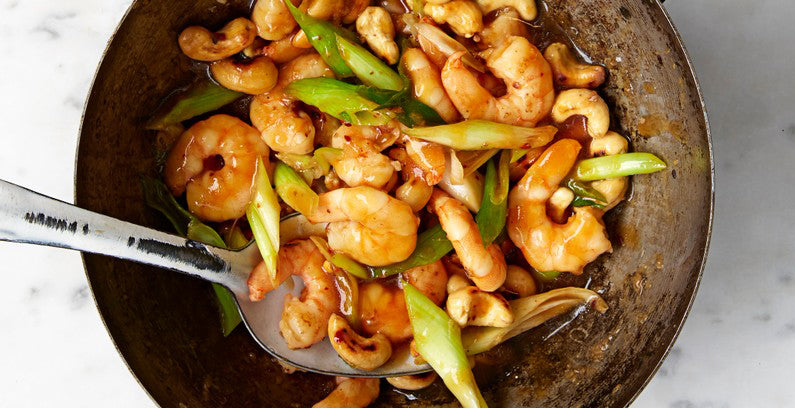 This Kung Pao shrimp recipe is a really low calorie stir-fry and is served in a homemade sauce with noodles or rice. The Szechuan peppercorns and chilli flakes add some spice to the prawns while the cashew nuts add a crunchy texture to the dish.
Prep Time
    •    Prep time: 15 minutes
    •    Yield: Serves 2

Ingredients
    •    groundnut oil
    •    1/2 tsp chilli flakes
    •    2 tbsps cashew nuts
    •    2 cloves garlic, crushed
    •    4 spring onions, chopped
    •    1 tbsp ginger grated to make
    •    150g large raw peeled prawns
    •    1/4 tsp Szechuan peppercorns, crushed

Sauce:
    •    1 tsp cornflour
    •    1 tsp caster sugar
    •    2 tbsps soy sauce
    •    1 tbsp rice vinegar
    •    noodles or rice to serve

Method
Heat 1 tbsp oil in a non-stick pan or wok and cook the cashews until golden. Scoop out of the pan then add the prawns and stir-fry until pink, about 2-3 minutes.

Scoop the prawns out then add the garlic, ginger, chilli, szechuan pepper and spring onions and stir fry for a couple of minutes.

Gradually mix the sauce ingredients into the cornflour and add 100ml water. Put the prawns and cashews back into the pan. Stir everything together then add in the sauce and toss until thickened. Serve with noodles or rice.


This great family recipe is thanks to Olive Magazine Recipes at https://www.olivemagazine.com/recipes/quick-and-easy/kung-pao-prawns/