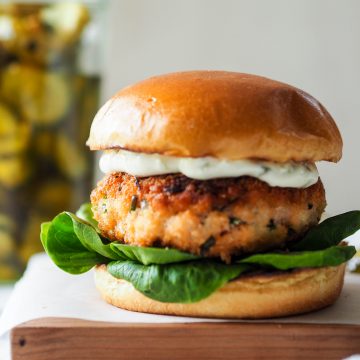 Eureka! We've invented a juicy salmon burger that will make your mouth water. A fat juicy Huon Salmon patty, with a crunchy crust served on a soft brioche bun with a side of bread and butter pickles.
The secret? Hand mincing the salmon, which sounds like a chore but will take you no time at all, and the results are worth it!
Prep Time

    •    Prep time: 10 minutes
    •    Cook time: 30 minutes
    •    Yield: Serves 4
Ingredients
    •   140g Huon Salmon portions
    •   Handful Chives & thyme (or your other favourite herbs)
    •   1/2 Cup Panko crumbs
    •   4 Brioche buns (halved & slightly toasted)
    •   1 Small iceburg lettuce (a buter lettuce if you can find it!)
    •   4 tsp Tartare Sauce
    •   Bread + butter pickles to serve
    •   1 tsp Salt
    •   1 tsp Pepper
Method
You'll need a pretty sharp knife to get the job done!
Place the salmon fillets on a large chopping board. Cut the salmon into small pieces, then cut them smaller again until they're the size of small pea. Use all the salmon including any belly fat which will help bind the patty together. Once you've got your salmon small enough, push it all together and with one hand on top of the knife blade, start to run your knife back and forth across the salmon in a rocking motion.
Keep going until the salmon resembles course mince.


Seasoning the burger: Place the salmon in a large bowl and add the finely chopped herbs, about a teaspoon of salt and a good grind of pepper. Mix the salmon with a spoon really well until it feels sticky and starts to emulsify together. Place the bowl in the fridge to chill for 30 minutes.

Crumbing and cooking the burger: Place the panko crumbs on a plate and set aside. Pre-heat a non-stick frypan to medium hot, and add a slick of vegetable oil. Meanwhile, remove the salmon from the fridge, wet your hands and take a quarter of the salmon mix and gently form into a patty shape. Carefully coat generously in the panko crumbs and place in the hot pan. Don't move the patty around, allow it to form a crust on the bottom, about 3 minutes, then using a fish slice or splade carefully flip onto other side and cook for a further 2-3 minutes or until golden. Continue with the rest of the salmon patties.

Building the burger: To assemble the burgers, place lettuce on the base of the bun, top with a salmon burger, a generous smear of tartare and finish with the top of the bun. Serve immediately with pickles on the side.


This great family recipe is thanks to Huon Aqua Recipes at https://www.huonaqua.com.au/recipes/juicy-huon-salmon-burger/