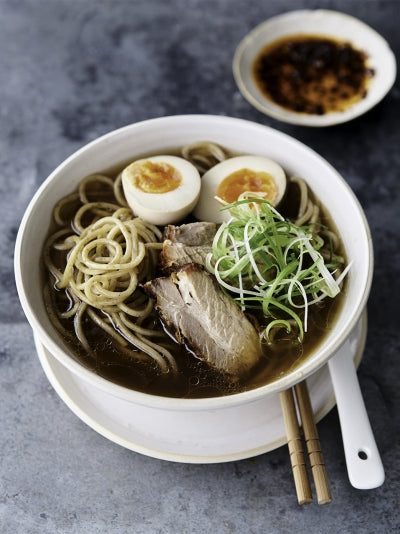 Josh Hartnett's Pork Ramen
This isn't a dish for the faint-hearted, but the flavour that you get from carefully making all the different pieces of the puzzle and bringing them together in one beautiful bowlful is really mind-blowing. I hope you enjoy!
Prep Time
    •    Cook time: 4 hours & 30 minutes, plus marinating
    •    Yield: Serves 6

Ingredients
    •    1 x marinated eggs
    •    1 x Ramen noodles, or 450g dried ramen noodles

Pork Belly Chashu:
    •    10 g coarse kosher salt
    •    30 ml low-salt soy sauce
    •    20 g soft light brown sugar
    •    750 g higher-welfare pork belly , skin off

Apple Soffritto:
    •    1 onion
    •    4 cloves of garlic
    •    1 tart green apple
    •    3 cm piece of ginger
    •    canola , or rapeseed oil

Shoyu Tare:
    •    75 ml sake
    •    75 ml mirin
    •    100 ml low-salt soy sauce

Broth:
    •    1 litre dashi
    •    1 litre quality organic chicken stock

Garnishes:
    •    3 spring onions
    •    1 fresh red chilli

Method
The day before you're going to cook, make the Marinated eggs and prep the pork. Sit the pork in a tray, sprinkle with the kosher salt and the sugar, drizzle over the soy, then rub all over. Cover and marinate in the fridge overnight.


The next day, preheat the oven to 160ºC/325ºF/gas 3.


Remove the pork from the marinade, brushing off the excess salt and sugar. Place in a snug-fitting roasting tray, cover with tin foil and roast for 4 hours, or until super-tender, reserving the fat from the tray.


Meanwhile, make the Ramen noodles.


For the apple soffritto, peel and very finely chop the onion, garlic, ginger and apple (discarding the core). Place in a pan with the oil on a low heat and fry gently for 45 minutes, or until softened but not coloured, stirring regularly, then remove from the heat.


For the shoyu tare, pour the sake and mirin into a pan and bring to the boil on a high heat. Leave to bubble away for 4 minutes, then reduce the heat to low, add the soy and apple soffritto, cook for an additional 5 minutes, then remove from the heat.


When you're getting ready to serve, make your broth: bring the stock and dashi to the boil in a large pan, then simmer over a medium heat for 5 minutes. Put a pan of water on to boil for the noodles, then thinly slice the pork.


Get yourself six warm bowls. Spoon 1 tablespoon each of the shoyu tare and reserved pork fat into the bowls, then divide up the broth. Cook the noodles in the pan of boiling water for 45 seconds (or according to the packet instructions), then remove, shaking off any excess water.


Divide between the bowls, using chopsticks to separate, if needed. Top each bowl with slices of pork and a halved marinated egg. Trim and finely slice the spring onions and chilli (deseed if you like), and scatter over the top to finish.


This great family recipe is thanks to Jamie Oliver Recipes at https://www.jamieoliver.com/recipes/pork-recipes/pork-ramen/