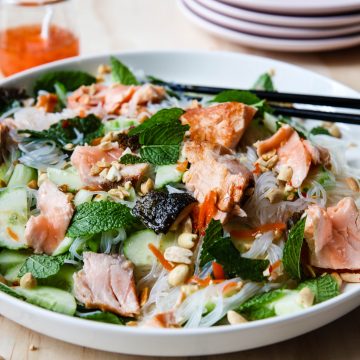 Huon Salmon Vietnamese Noodle Salad
An old favourite updated with juicy Huon Salmon portions on a tangy noodle salad with crunchy peanuts.
Prep Time

    •    Prep time: 5 minutes
    •    Cook time: 25 minutes
    •    Yield: Serves 4
Ingredients
    •    500g Huon Salmon portions, skin on
    •    250g Vermicelli noodle
    •    1 Cucumber, peeled and sliced
    •    1 bunch of mint, leaves removed
    •    1 Cup Vietnamese Dipping Sauce for Spring Rolls (see note)
    •    1/2 Cup cup roasted peanuts, roughly chopped
Method
Cook the glass noodles according to the directions on the pack. Use a pair of kitchen scissors to snip the noodles into manageable lengths. Drain and set aside to cool.

Heat a medium based frypan over high heat, add a splash of olive oil and place the salmon, skin side down. Cook for 5 minutes until the skin is crispy, then turn and cook the other side. About 3 minutes for medium. A little longer if you like it cooked through. Set aside.

In a large salad bowl, toss the noodles, cucumber, mint and dressing together, and place on a large serving platter. Flake the salmon into bite size pieces and arrange on the salad. Scatter the roasted peanuts over the top.

NOTE: Vietnamese Dipping Sauce is available in the Asian section of your supermarket, if unavailable substitute with equal parts sweet chilli sauce and lime juice.


This great family recipe is thanks to Huon-Aqua Recipes at https://www.huonaqua.com.au/recipes/huon-salmon-vietnamese-noodle-salad/