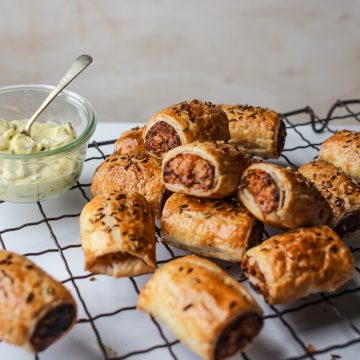 Huon Salmon Sausage Rolls
A Huon Salmon take on the classic sausage, these will disappear fast! You can use sesame or poppy seeds if fennel isn't your thing.
Prep Time

    •    Prep time: 15 minutes
    •    Cook time: 20 minutes
    •    Yield: Serves 10
Ingredients
    •   500g Fresh Huon Salmon, skin off cut into chunks
    •   1 Cup Fresh bread crumbs
    •   1 Small Onion, peeled and roughly chopped
    •   2 Tbsp Worcestershire sauce
    •   1/4 Cup Parsley
    •   2 Sheets Frozen puff pastry
    •   1 Egg, beaten
    •   1 Tsp Fennel seeds
Method
Preheat oven to 200C. Line a baking tray with paper
In the bowl of a food processor, place the salmon, breadcrumbs, onion, Worcestershire and parsley then pulse until well combined. Season well with salt and pepper.
On your work surface, cut each piece of puff pastry in half. Spoon a portion of the salmon mix down the centre of the pastry.
Using a pastry brush, paint the long edge with egg, then roll up to enclose the filling, turn the roll over so the seam is on the bottom. Cut each roll into four pieces and place onto prepared baking tray.
Brush the top of each sausage roll with the remaining egg and sprinkle with fennel seeds. Bake for 20 minutes, or until pastry is golden.
Serve immediately with tartare sauce.


This great family recipe is thanks to Huon Aqua Recipes at https://www.huonaqua.com.au/recipes/huon-salmon-sausage-rolls/