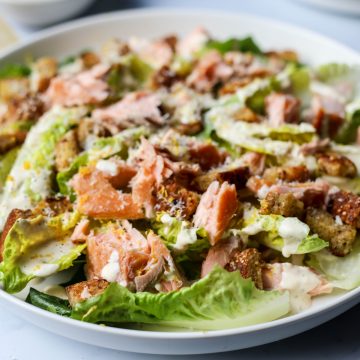 It may be cold but if you're craving a salad, this twist on the old favourite makes a satisfying lunch or weeknight dinner.
Prep Time

    •    Prep time: 5 minutes
    •    Cook time: 10 minutes
    •    Yield: Serves 4
Ingredients
    •   300g Huon Wood Roasted Salmon (served at room temperature)
    •   2 Thick slices of sourdough bread, cut into 2cm cubes
    •   2 Tbsp Olive Oil
    •   2 Baby cos lettuce, leaves seperated
    •   1/2 Cup Caesar dressing, premade or try the recipe below
    •   1/4 Cup Parmesan, grated
    •   1 Lemon
Method
Drizzle the bread with the oil, season and toss to coat.

Heat a non-stick frypan over a medium-high heat. Fry the bread for 3-5 minutes, turning often, until crisp and golden, set aside.

Arrange the lettuce leaves on a serving platter, drizzle the dressing over the top, reserving a little for serving.

Top with the Huon salmon then scatter over the croutons. Finely grate over the zest from the lemon over the top, then sprinkle the grated parmesan, season with pepper and serve with remaining dressing on this side.


Easy Caesar Salad Dressing: If you've time to make this ahead it's worth letting it sit for 30 minutes or so to allow the flavours to develop.

    •   1 cup crème fraiche
    •   2 tbs lemon juice
    •   1 tsp Dijon mustard
    •   1 anchovy, crushed (optional)
    •   1 tsp Worcestershire sauce
    •   1 small clove garlic, crushed
    •   1/2 cup parmesan, finely grated
    •   Salt and freshly ground pepper

* In a large bowl, whisk all ingredients until combined. Taste and check the seasoning be generous with the pepper. It will be a bit runny but will thicken up as it sits. Keeps well in the fridge for up to a week.


This great family recipe is thanks to Huon Aqua Recipes at https://www.huonaqua.com.au/recipes/huon-salmon-caesar-salad/