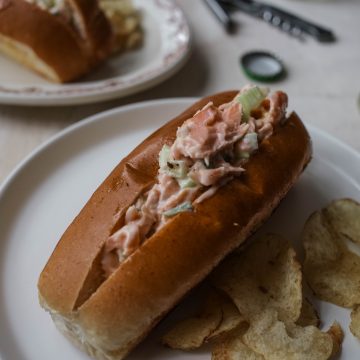 Hot Smoked Huon Salmon Rolls
Forget the traditional hot dog, Huon Wood Roasted Salmon makes this fast footy food at its finest.
Prep Time

    •    Prep time: 5 minutes
    •    Cook time: 10 minutes
    •    Yield: Serves 4
Ingredients
    •   2 x 150g Huon Wood Roasted Salmon
    •   1 celery stalk, finely chopped
    •   1 Cup Mayonnaise
    •   2 Tbsp lemon juice
    •   1 tbsp Chopped fresh chives
    •   4 Hot dog buns
    •   2 Tbsp Butter at room temperature
    •   Crisps to serve
Method
Mix the salmon, celery, mayo, lemon juice and chives together in a bowl.

Heat a large frypan over medium heat. Cut off the long edges of the hot dog buns to create a flat side. Spread with butter then toast each side in the frypan. Split the top and fill with Huon Salmon mix. Serve with some hand cooked crisps on the side.


This great family recipe is thanks to Huon Aqua Recipes at https://www.huonaqua.com.au/recipes/hot-smoked-huon-salmon-rolls/