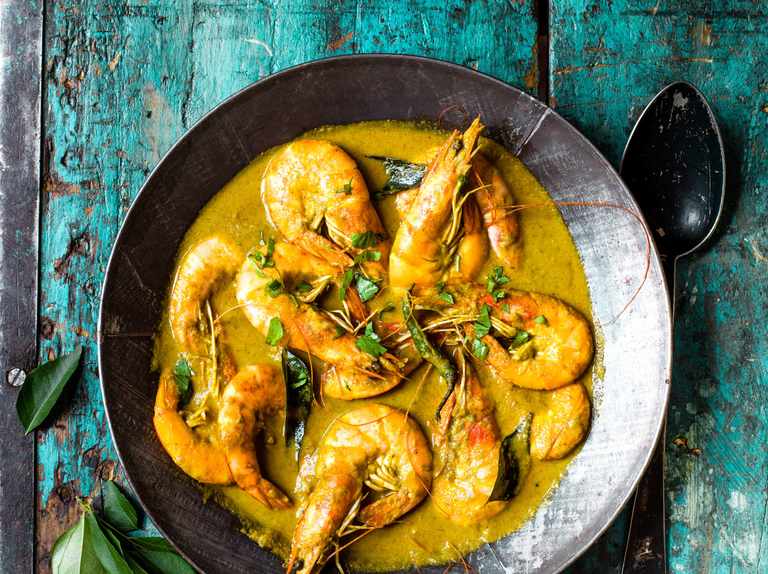 Hirwa kolambi kalwan is a vibrant green coconut prawn curry with chilli, coriander and curry leaves. We've used shell-on prawns as they add so much flavour, although you could make this with shelled prawns as well.
Prep Time
    •    Prep and cook time: 35 minutes
    •    Yield: Serves 8

Ingredients
    •    10-12 curry leaves
    •    400ml coconut milk
    •    a pinch caster sugar
    •    2 tbsps vegetable oil
    •    3 tbsps tamarind paste
    •    1/2 tsp ground turmeric
    •    12 large whole shell-on raw prawns
    •    1 green bird's-eye chilli slit lengthwise
    •    1 tbsp coriander leaves chopped to make

For paste:
    •    1 green bird's-eye chilli
    •    1/2 onion, roughly chopped
    •    5 cloves garlic, roughly chopped
    •    a thumb-sized piece ginger, roughly chopped
    •    a large bunch coriander, leaves and stems chopped

Method
Put the prawns, turmeric and a pinch of salt into a bowl and toss well.
Put the paste ingredients and 70ml of water into a blender or food processor and whizz to a smooth paste.
Heat the oil in a large, lidded, heavy-bottomed pan over a low heat. Add the green chilli and curry leaves, and, as they begin to sizzle, add the paste and fry for 3 minutes. Add the prawns, stir well and fry for 1 minute. Add 100ml of water, season and cook with a lid on for 2 minutes. Add the coconut milk, sugar and tamarind paste. Stir well and simmer for 4-5 minutes or until the curry has thickened slightly and the prawns are cooked through. Scatter over the coriander and serve with rice, if you like.
This great family recipe is thanks to Olive at https://www.olivemagazine.com/recipes/fish-and-seafood/hirwa-kolambi-kalwan/