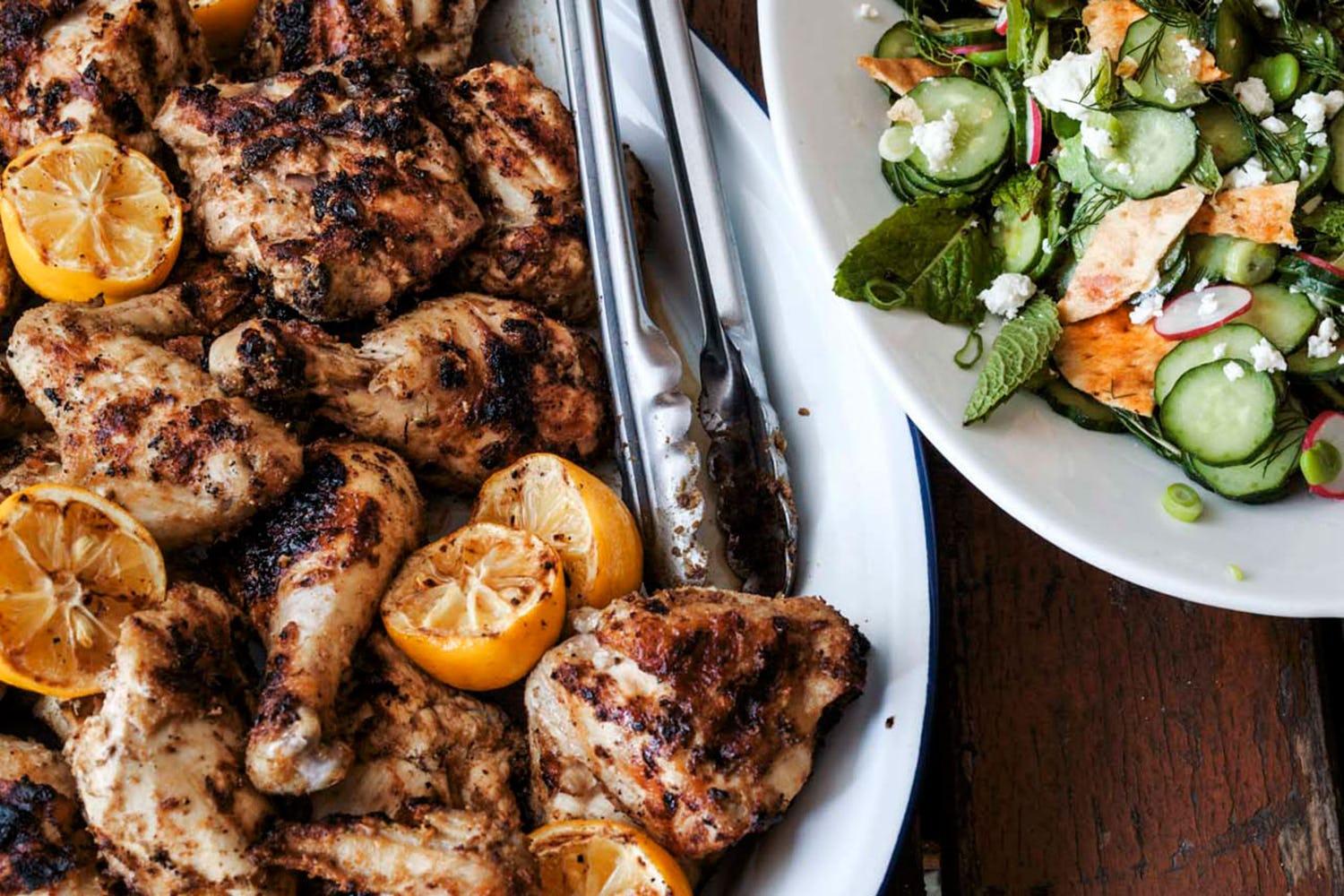 This charred, nutty grilled chicken recipe, which takes tahini out of hummus and puts it into a barbecue marinade, is just one of them. Make it a meal with a bright side salad and use any leftovers to make a sandwich for tomorrow's lunch.
Prep Time

    •    Prep time: 15 minutes, plus chilling and marinating time
    •    Cook time: 30 minutes
    •    Yield: Serves 4

Ingredients
    •    One 3-to-4-pound chicken, cut into 10 pieces
    •    Kosher salt
    •    6 garlic cloves, peeled
    •    2 tsps whole cumin seeds, toasted (or 2½ tsps ground cumin)
    •    2 tsps paprika
    •    ¼ cup tahini
    •    ¼ cup lemon juice
    •    2 tbsps olive oil


Method
Season the chicken pieces on both sides with salt, transfer to a plate or small baking pan, and refrigerate for at least 1 hour (or up to overnight).


In a mortar and pestle, pound the garlic to a paste with a pinch of salt. Add the cumin seeds and pound until ground, then transfer to a bowl and add the paprika, tahini, lemon juice and olive oil. Season to taste with salt; it will have the consistency of peanut butter. (If you're using ground cumin, smash the garlic to a paste with the side of your knife, then transfer to a bowl and add the cumin and remaining ingredients.)


Remove the chicken from the refrigerator and slather the tahini marinade all over each piece. Cover loosely with plastic wrap and let stand until the chicken is at room temperature (no more than 1 hour).


Preheat a charcoal or gas grill for direct, medium-high-heat grilling. When the grill is hot, put the chicken pieces on the grill grate, skin-side down, and cook until the skin begins to brown and you can easily lift the pieces off the grate. Continue to cook, turning frequently and moving the chicken pieces from hotter to cooler parts of the grill as needed, until cooked through, about 25 to 30 minutes. The chicken has a tendency to stick, so be vigilant about turning it frequently. If the chicken threatens to burn before it's cooked through, you can move the pieces to the cooler zone of the grill, cover it (leaving the vents open) and continue grilling until it's cooked through. Use a meat thermometer or the tip of a sharp knife to check for doneness.



Transfer to a platter and serve hot or at room temperature.


This great family recipe is thanks to Tasting Table Recipes at https://www.tastingtable.com/cook/recipes/grilled-chicken-with-tahini-recipe