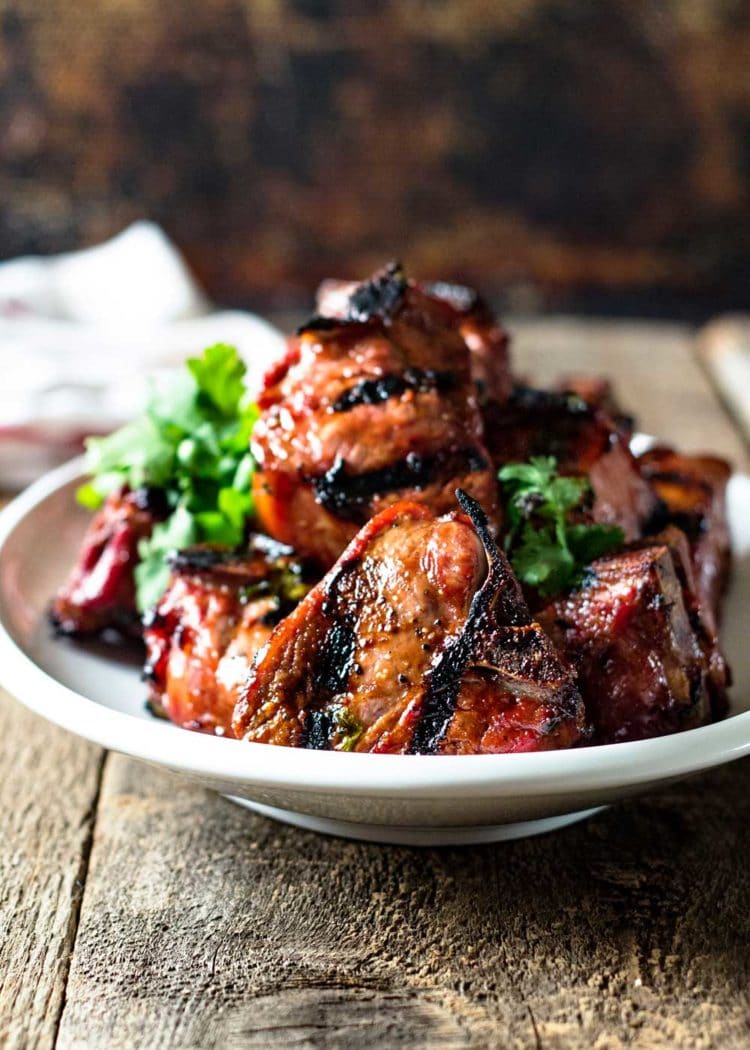 Grilled Hoisin Lamb Loin Chops
These Grilled Hoisin Lamb Loin Chops are marinated in hoisin sauce then grilled. Feel free to use a grill pan or broil them if grilling isn't available to you due to weather, too. They caramelize beautifully and are served with chopped cilantro and rice. Super quick to make, I think these are a great mid-week dinner when time is tight!
Prep Time
    •    Prep time: 20 minutes
    •    Cook time: 12 minutes
    •    Yield: Serves 4
Ingredients
    •    1/4 tsp sesame oil
    •    1 cup hoisin sauce
    •    2 cloves garlic minced
    •    pinch red pepper flakes
    •    1/2 tsp cracked black pepper
    •    1/4 cup lightly packed cilantro chopped (divided)
    •    1-1/2 pounds lamb loin chops 1 to 1-1/2 inches thick

Method
In a shallow bowl whisk together the hoisin sauce, diced garlic, sesame oil and red and black peppers. Add lamb loin chops and half of chopped cilantro. Turn to coat or place all in a plastic bag and turn to coat. Allow to marinate at least 30 minutes or longer.

Reheat grill to 350°F (medium heat). Clean and oil your grill.

Grill 3 minutes, turn each chop 90 degrees for that nice char grill look, and cook for another 3 minutes. Turn the chops over and baste with any remaining hoisin sauce. Cook for about 6 more minutes, turning halfway through. They should still be pink inside. Remove the chops from the grill and place on a warm plate to rest. Sprinkle with remaining chopped cilantro.

Serve with steamed rice and vegetables.
NOTES: 10 to 12 chops total, depending on size.


This great family recipe is thanks to Kevin Is Cooking Recipes at https://keviniscooking.com/grilled-hoisin-lamb-loin-chops/