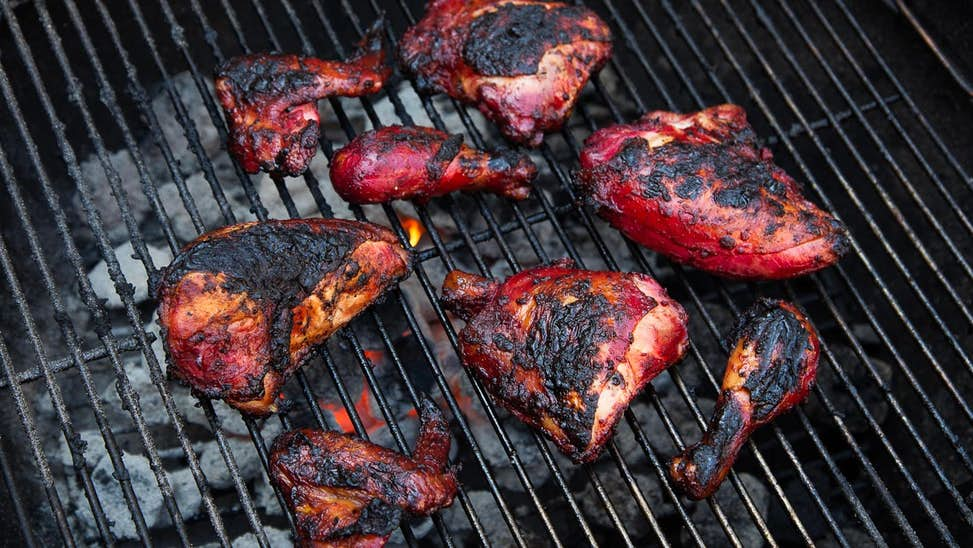 This may be one of your Chinese take-out staples, but it's also the perfect dish to throw on the grill this summer. The sweet chicken is laced with rice wine, soy sauce and Sriracha for a punch of flavor that pairs perfectly with the smokiness from the grill.
Prep Time
    •    Prep time: 20 minutes, plus overnight marinating
    •    Cook time: 20 minutes

    •    Yield: Serves 4

Ingredients
    •    1/4 cup honey
    •    1/3 cup ketchup
    •    1 tsp sesame oil
    •    2 tbsps Sriracha
    •    1/4 cup soy sauce
    •    1 tbsp hoisin sauce
    •    2 tbsps vegetable oil
    •    1/4 cup brown sugar
    •    2 tbsps shaoxing rice wine
    •    1 tsp Chinese five-spice powder
    •    one 3 1/2 to 4-ounce chicken, cut into 8 pieces
    •    kosher salt and freshly ground black pepper, to taste
    •    1 small (6-ounce) red beet, peeled and roughly chopped

Method
In a blender, combine the ketchup, brown sugar, honey, soy sauce, Sriracha, rice wine, hoisin sauce, five-spice powder, sesame oil and chopped beet. Purée until smooth. Transfer to a sealable plastic bag, add the chicken and shake to coat. Marinate in the refrigerator overnight.


The next day, light a grill. Remove the chicken from the marinade, wiping off any excess sauce and place the chicken in a medium bowl. Toss with the vegetable oil and season with salt and pepper. Grill, turning as needed, until charred and reading 165º on a meat thermometer, 16 minutes.



Transfer to a platter and let rest 5 minutes, then serve.


This great family recipe is thanks to Tasting Table Recipes at https://www.tastingtable.com/cook/recipes/char-siu-chicken-grilling-recipe