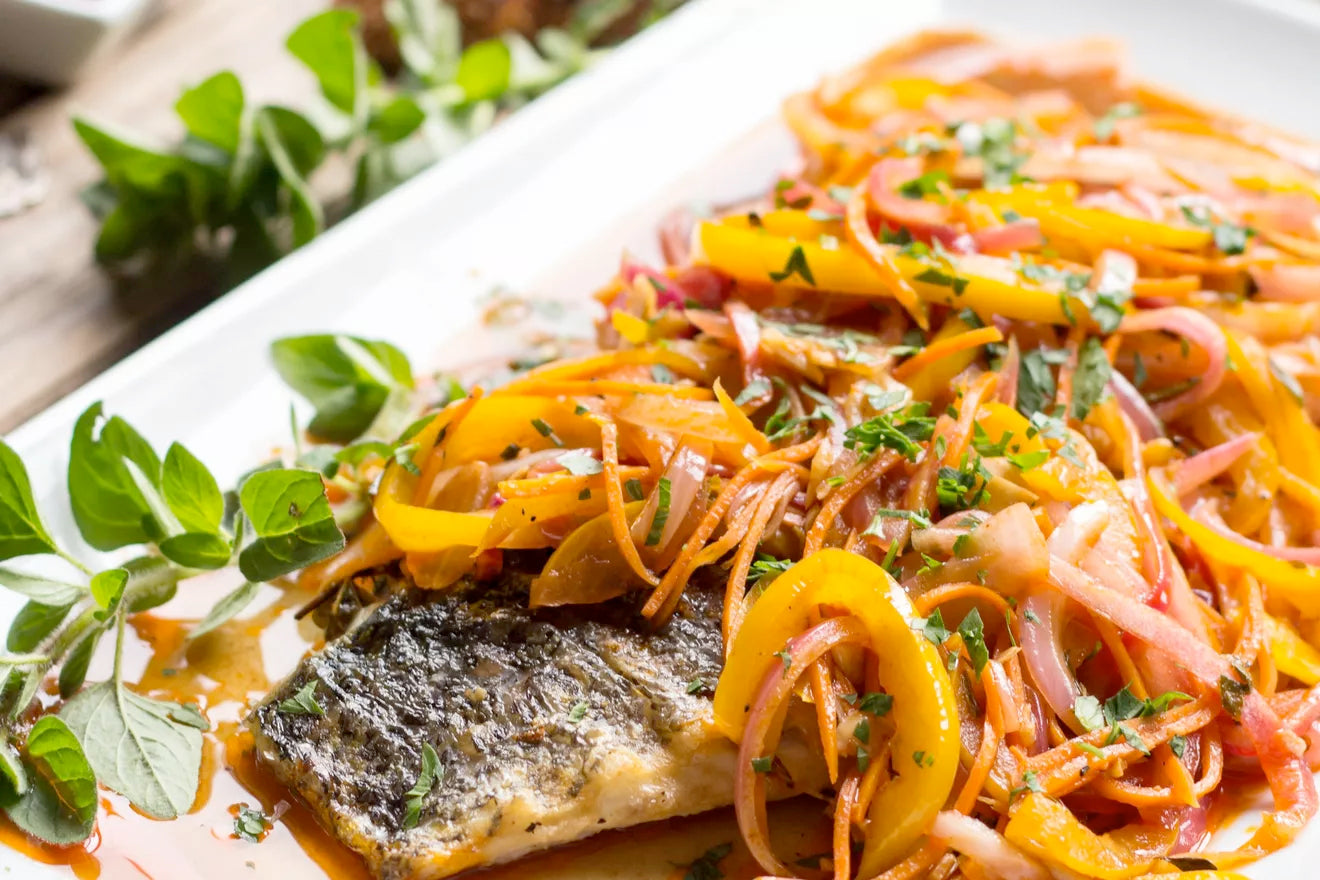 Grilled Barramundi Escabeche
This light and refreshing grilled fish packs a lot of flavor for minimal effort. A perfect weekday meal for family.

Prep Time
    •    Prep and cook time: 35 minutes
    •    Yield: Serves 4

Ingredients
    •    2 dried bay leaves
    •    1 sprig fresh thyme
    •    1/2 cup sherry vinegar
    •    5 cloves garlic, thinly sliced
    •    2 medium carrots, julienned
    •    fresh parsley, minced for garnish
    •    1 1/2 tsps sweet smoked paprika
    •    4 pieces of barramundi fillets, skin on
    •    1 yellow or red bell pepper, seeded and thinly sliced
    •    1/2 large red onion or 1 small red onion, thinly sliced
    •    1 tbsp fresh oregano leaves, minced, or 3/4 tsp dried

Method
Heat olive oil in a large skillet over medium heat. Add the garlic and stir until it just starts to turn lightly golden, about 2 minutes. Add the paprika, thyme and bay leaves and saute for about 30 seconds, then add the red onion, bell pepper and carrots. Season generously with salt and pep-per, then toss the vegetables around until slightly softened, about 2 minutes. Pour in the sherry vinegar and simmer for about 3 minutes, then stir in the oregano, cover and turn off the heat.

Preheat a clean grill or grill pan until very hot, then rub the grill grates with oil. Rub the barra-mundi with olive oil on both sides and sprinkle liberally with salt and pepper. Place the barra-mundi on the grill, skin side down, and cook until it starts to turn opaque around the edges, about 5-6 minutes for a large fillet, or about 2-3 minutes for small fillets. Use a spatula to careful-ly flip the barramundi to the other side and continue to cook until the thickest part of the flesh is no longer translucent.

If the vegetables have cooled down, rewarm them over medium heat for a few minutes, then remove the thyme sprig and bay leaves. Transfer the fish to a platter and spoon the vegetables and sauce over top. Sprinkle with chopped parsley and serve immediately.
This great family recipe is thanks to 52Food at https://food52.com/recipes/56461-grilled-barramundi-escabeche