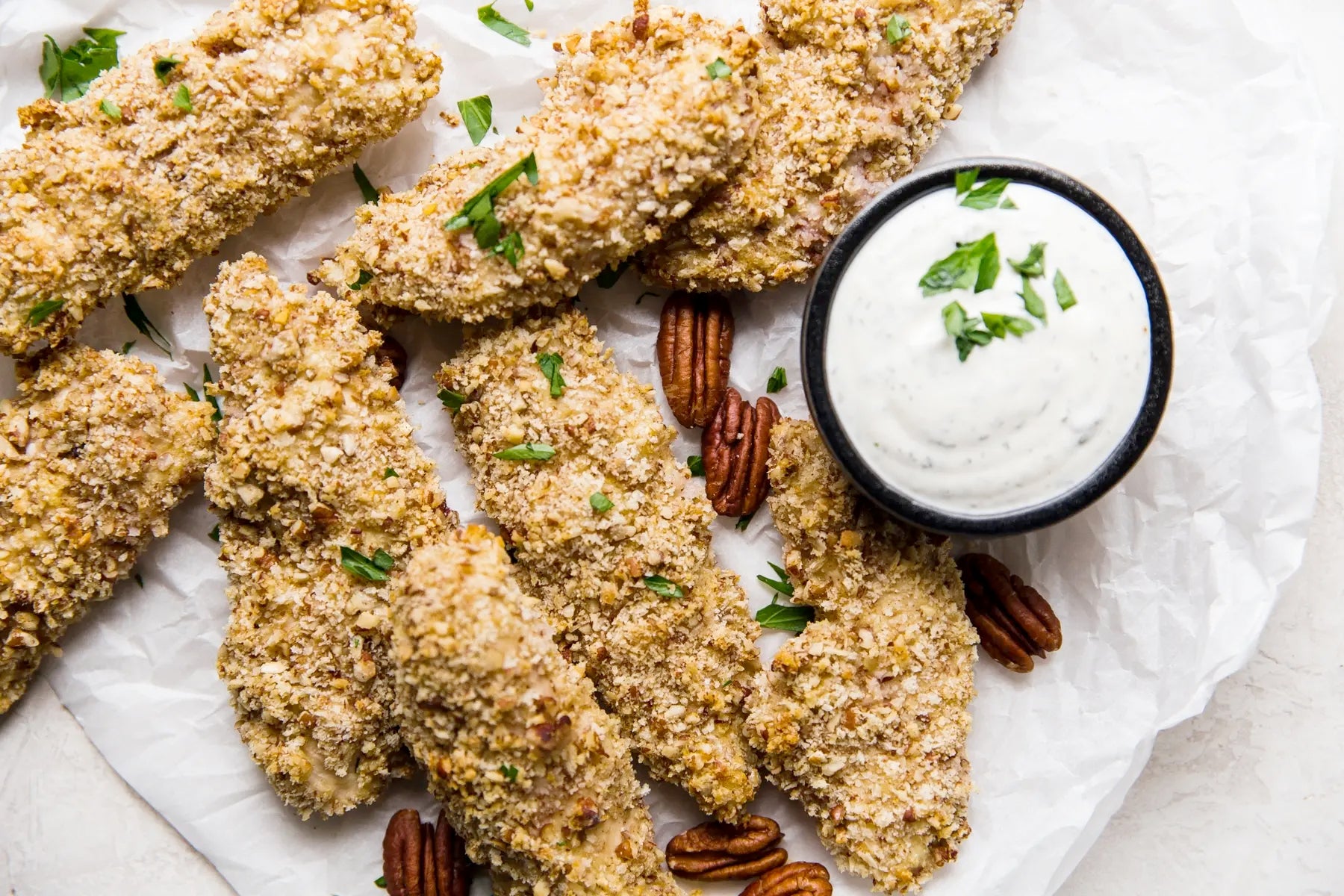 Baked Pecan Chicken Tenders
These pecan crusted chicken tenders with buttermilk ranch come together in a flash and are loaded with an abundance of flavor and protein.

Prep Time
    •    Prep time: 20 minutes
    •    Cook time: 20 minutes
    •    Yield: Serves 4

Ingredients
    •    3 eggs
    •    1 tsp salt
    •    1/4 tsp cayenne
    •    1 tsp garlic powder
    •    2 cups raw pecan halves or pieces
    •    1 cup panko or gluten free bread crumbs
    •    1 cup all-purpose or gluten free flour blend
    •    1.5 - 2lbs chicken breast tender or chicken strips

Method
Preheat oven to 425°F.
In a food processor, pulls pecans until fine as breadcrumbs. Mix pecans along with panko, garlic powder, cayenne and salt in a shallow bowl.
In another shallow bowl, whisk eggs until smooth. And finally, in a third shallow bowl add flour.
Lightly season chicken tenders with salt and pepper. Working with one chicken tender at a time, dip in eggs, flour, eggs and then pecan mixture. (be sure to press the pecan mixture onto the chicken to be sure it is completely coated.) Set chicken on a baking sheet lined with a cooling rack or parchment paper. Repeat with remaining chicken.
Place chicken on center rack and bake for 20 minutes, until golden brown and cooked through.
Serve pecan chicken tenders warm with buttermilk ranch. Enjoy!
This great family recipe is thanks to The Modern Proper at https://themodernproper.com/baked-pecan-chicken-tenders