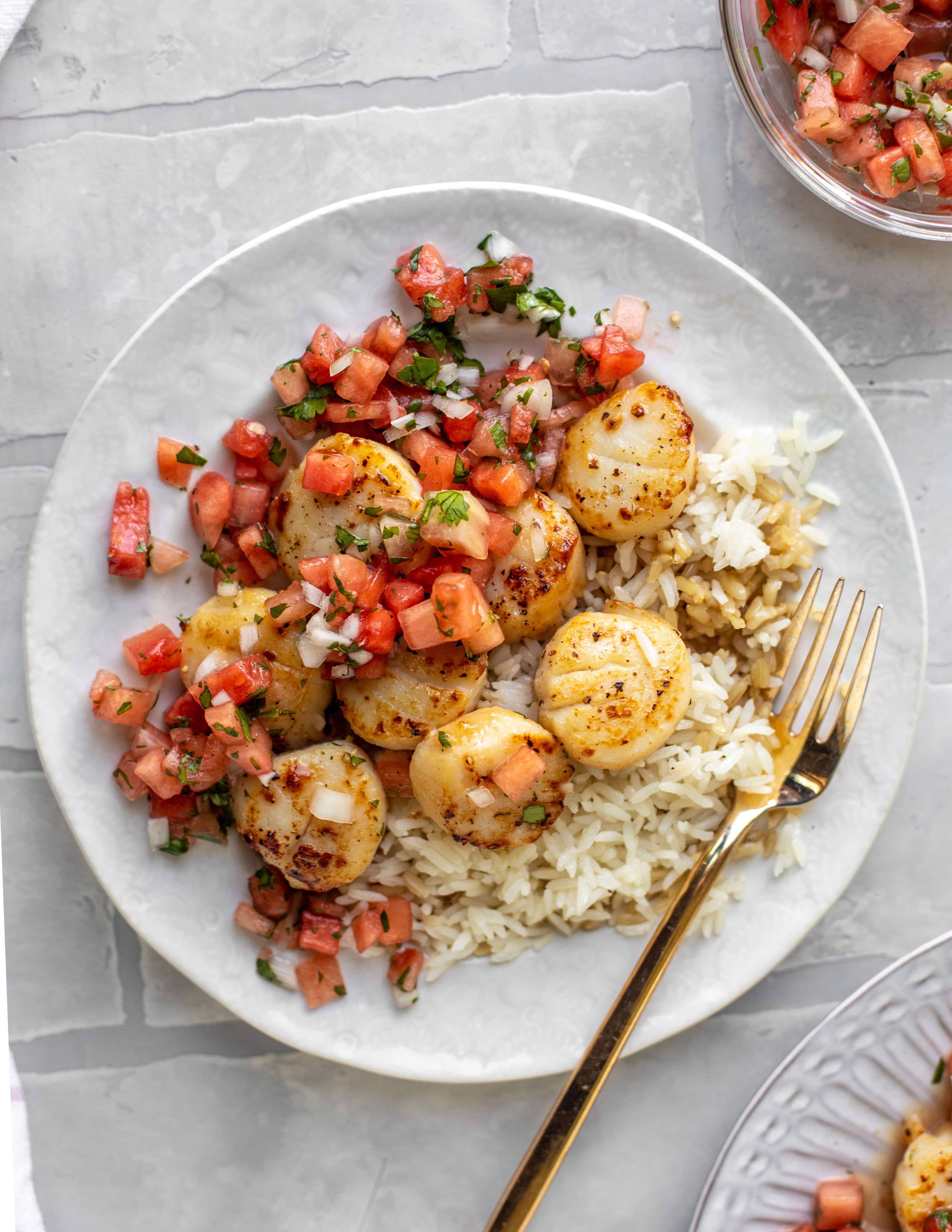 Garlic Butter Scallops with Watermelon Salsa
These scallops are covered in a refreshing, crisp, watermelon salsa. It's slightly sweet, a little spicy and the perfect crunch on top of the buttery scallops!

Prep Time
    •    Prep time: 15 minutes
    •    Prep time: 15 minutes
    •    Yield: Serves 4

Ingredients
    •    salt and pepper
    •    1 pound sea scallops
    •    3 garlic cloves minced
    •    4 tbsps unsalted butter
    •    jasmine rice, for serving
    •    pinch crushed red pepper flakes

For Watermelon Salsa:
    •    salt and pepper
    •    1 small shallot, diced
    •    1 1/2 cups diced watermelon
    •    1/4 cup fresh cilantro, chopped
    •    1 jalapeño pepper, seeded and diced
    •    2 to 3 tbsps freshly squeezed lime juice

Method
Pat the scallops dry with a paper towel. Season them with salt and pepper.
Heat a large skillet over medium heat. Add the butter. Once melted, stir in the garlic and the pepper flakes. Add the scallops in a single layer, making sure not to crowd the pan. You may need to do this in two batches. Cook the scallops until they are opaque, about 2 to 3 minutes per side. Don't cook longer or they will be too tough!
Serve the scallops topped with the watermelon salsa. I love to serve these with jasmine rice too. However, if you're having a dinner party or making them as an appetizer, they are great on their own with the salsa. As a great accompaniment to surf and turf!
For Watermeloin Salsa: Combine all ingredients in a bowl and stir. I like to make this first so the flavors can marry together. You can also store leftovers in the fridge.
This great family recipe is thanks to HOW SWEET EATS at https://www.howsweeteats.com/2020/06/garlic-butter-scallops/