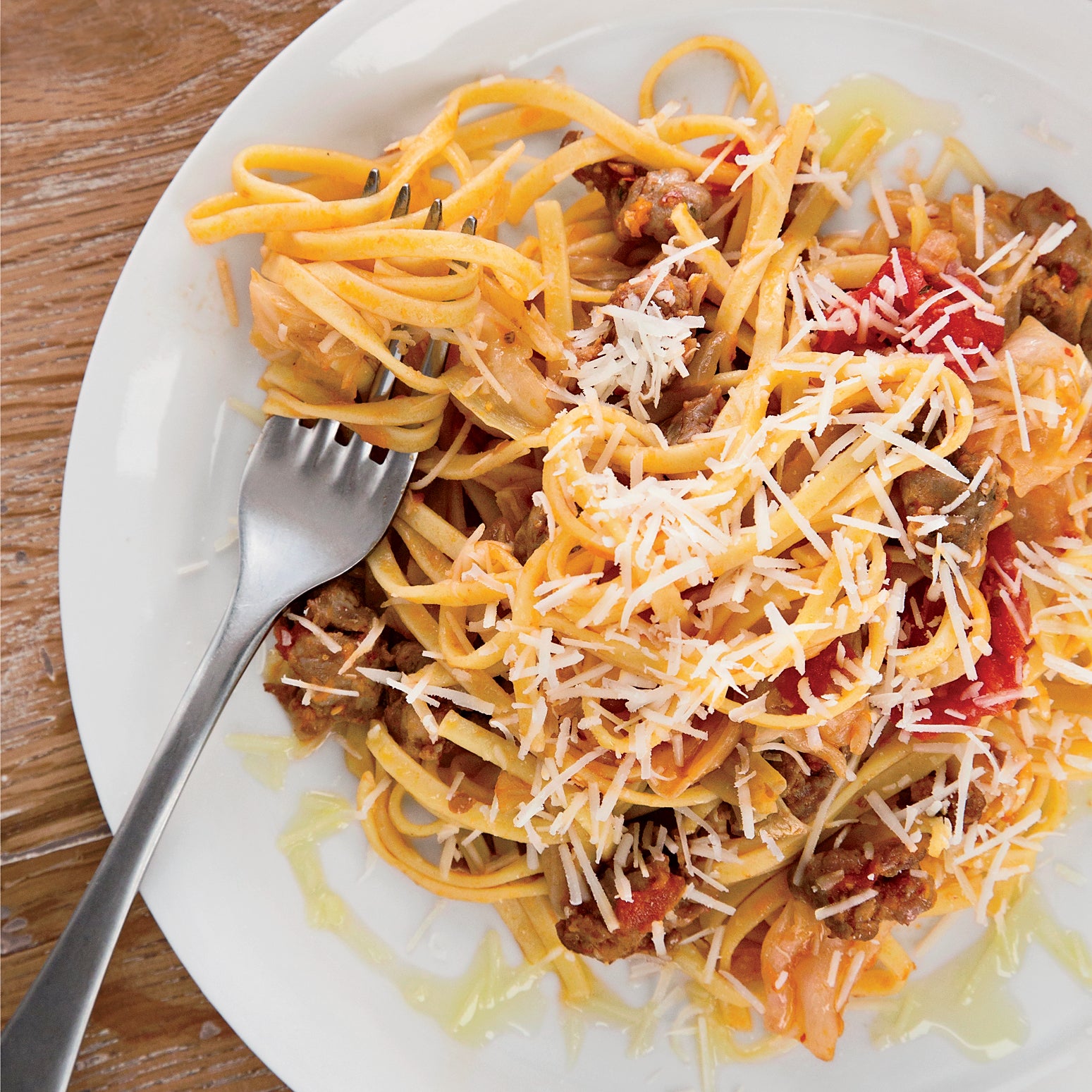 Fettuccine with Spicy Sausage and Cabbage Ribbons
This pasta combines blanched cabbage strips with crumbled sausage. The cabbage cooking water does triple duty: Batali also uses it to boil the pasta and then adds a little of it to the sauce.
Prep Time
    •    Prep time: 30 minutes
    •    Cook time: 30 minutes
    •    Yield: Serves 6

Ingredients
    •    kosher salt
    •    1 pound fettuccine
    •    1/4 cup extra-virgin olive oil
    •    1 medium red onion, finely chopped
    •    freshly grated Recorino Romano cheese, for serving
    •    2 cups Batali's Essential tomato sauce or jarred tomato sauce
    •    1 pound spicy Italian sausages-castings discarded, meat crumbled
    •    1 pound green cabbage (1/2 medium head), cut into 1/2 inch wide ribbons

Method
In a large pot of salted boiling water, blanch the cabbage until just tender, 4 to 5 minutes. Using a slotted spoon, transfer the cabbage to a colander. Cool the cabbage under running water and drain well.
In a large skillet, heat the oil until shimmering. Add the onion and a generous pinch of salt; cook over moderate heat, stirring, until softened, 7 minutes. Add the sausage and cook, stirring, until no pink remains, 7 minutes. Stir in the tomato sauce and cabbage. Cover and simmer over moderately low heat, stirring, until the cabbage is tender, 15 minutes.
Return the cabbage cooking water to a boil. Add the fettuccine and cook until just barely al dente. Drain the pasta, reserving 1/4 cup of the cooking water. Add the pasta and reserved cooking water to the cabbage sauce. Cook over moderate heat, tossing, until the pasta is coated and al dente, about 2 minutes. Transfer the pasta to shallow bowls, sprinkle cheese on top and serve.
This great family recipe is thanks to FOOD & WINE at https://www.foodandwine.com/recipes/fettuccine-spicy-sausage-and-cabbage-ribbons