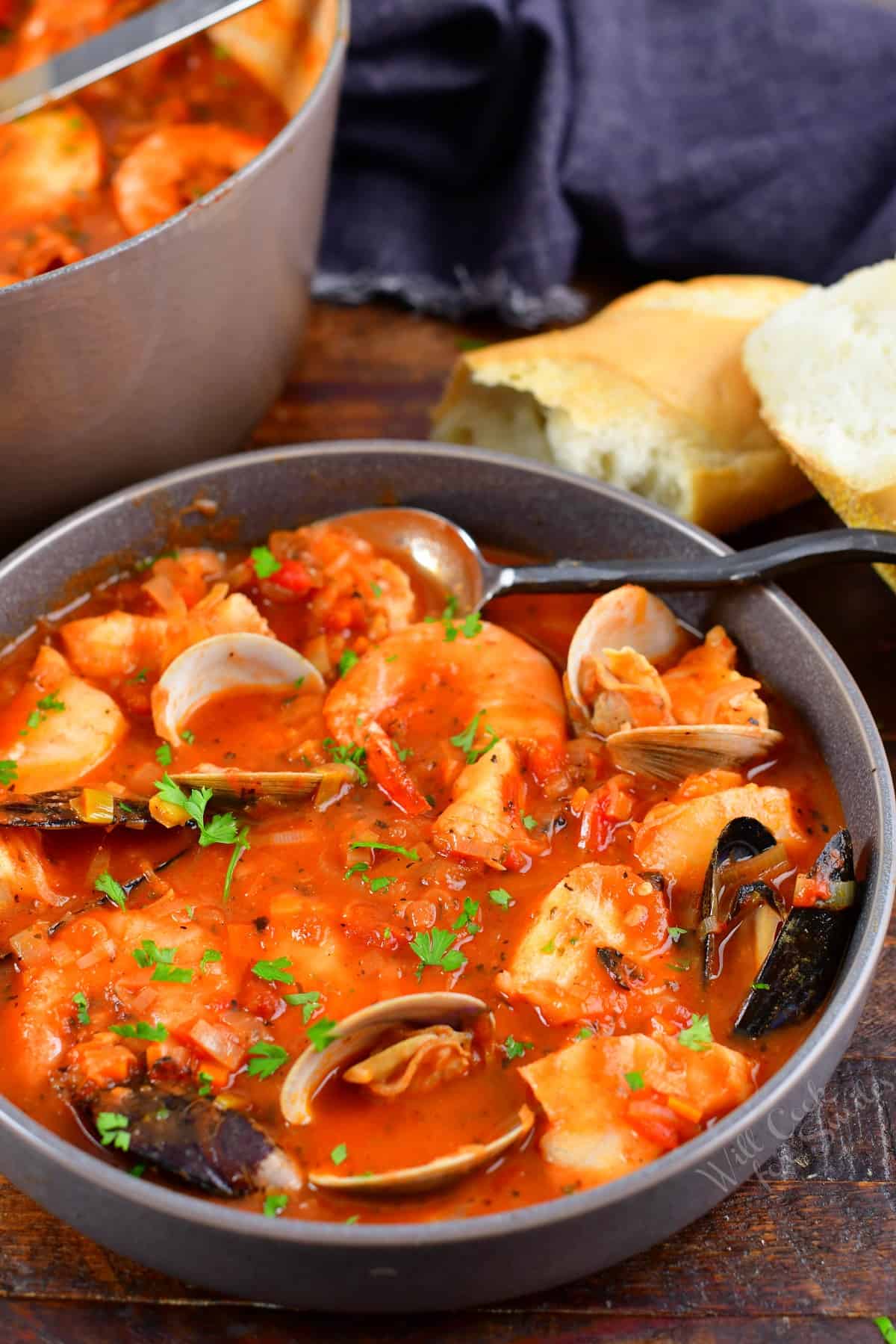 Family Favorite Paella Recipe
Cioppino is a delicious seafood stew with a rich tomato base and loaded with all your favorite seafood like white fish, clams, mussels, and shrimp. It's got a wonderfully rich and bright flavor and it's sure to satisfy everyone at the dinner table. This is an easy Italian-American soup to make right at home!
Prep Time
    •    Prep time: 10 minutes
    •    Cook time: 50 minutes
    •    Yield: Serves 6

Ingredients
    •    2 shallots
    •    1 bay leaf
    •    2 tsps sugar
    •    1/2 lb mussels
    •    3 tbsps olive oil
    •    2 medium carrots
    •    1 tsp dried thyme
    •    4 - 5 garlic cloves
    •    4 oz tomato paste
    •    1 1/2 garlic cloves
    •    1 tsp dried oregano
    •    1 tbsp dried parsley
    •    1 lb white fish of choice
    •    1 tsp garlic garlic powder
    •    1 1/2 cups dry white wine
    •    2 small leeks or 1 large leek
    •    1 lb jumbo shrimp deveined
    •    1 tsp salt more or less to taste
    •    1/2 lb manila clams or littleneck clams
    •    2 1/2 - 3 cups fish stock or seafood stock
    •    1 tsp red pepper flakes more or less to taste
    •    2 - 14.5 oz cans of fire roasted diced tomatoes

Method
Prepare all the ingredients first by dicing and slicing the vegetables, measuring liquids and seasoning, and scrubbing the clams and mussels.

Preheat a large Dutch oven over medium heat and add olive oil. Add shallots, leek, and carrots and sauté until vegetables soften and star to brown.

Smash and mince garlic and add it to the pot. Sauté just until garlic is fragrant and pour in wine.

Bring it to simmer and let it simmer for a minute.

Add tomatoes, tomato paste, seasonings, and fish stock. Mix everything together and taste to see if you need more salt.

Let the soup simmer over medium-low heat for 20-25 minutes for the flavors to come together. Taste to see if you need more spice from red pepper flakes.

Add mussels and clams and submerge them into the broth. Cover the pot with a lid and let them cook 3-4 minutes.

Add chopped white fish and shrimp and make sure they are also submerged into broth. Cover and cook another 5 minutes or so, until fish is opaque, shrimp is cooked through, and clams and mussels have opened.

Serve right away with some sourdough bread of bread of choice!
This great family recipe is thanks to WILL COOK FOR SMILES at https://www.willcookforsmiles.com/cioppino/