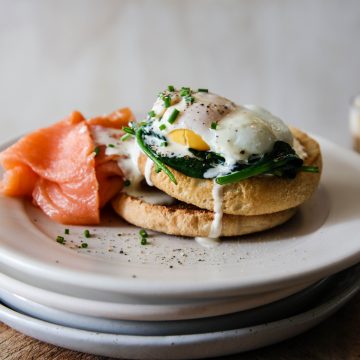 Easy Huon Smoked Salmon Eggs Benedict
Hollandaise Sauce is a bit of effort on a Sunday morning, so we've come up with a lighter, cheats version. But with plenty of delicious Huon Smoked Salmon, it still makes for a decadent Sunday brunch.
Prep Time

    •    Prep time: 5 minutes
    •    Cook time: 20 minutes
    •    Yield: Serves 4
Ingredients
    •   300g Premium Cold Smoked Huon Salmon
    •   4 English Muffin, toasted and spread thickly with butter
    •   4 Free range eggs
    •   4 Cups English Spinach, wilted
    •   1/2 Cup Crème Fraiche
    •   Squeeze of lemon juice to taste
    •   To serve, snipped chives
Method
In a small bowl combine crème fraiche and 2 teaspoons lemon juice and stir to combine. Season to taste.

Fill a large saucepan until 8cm deep with cold water. Bring to the boil over medium heat. Reduce heat to a simmer and crack 1 egg into water and cook for 3 minutes. Remove with a slotted spoon. Drain on paper towel. Keep warm while you cook the remaining eggs.

To assemble, place two muffins each on four serving plates, arrange spinach and Huon Premium Smoked Salmon. Top with a poached egg, then a drizzle of crème fraiche mix, top with chives if desired and serve at once.


This great family recipe is thanks to Huon Aqua Recipes at https://www.huonaqua.com.au/recipes/easy-huon-smoked-salmon-eggs-benedict/