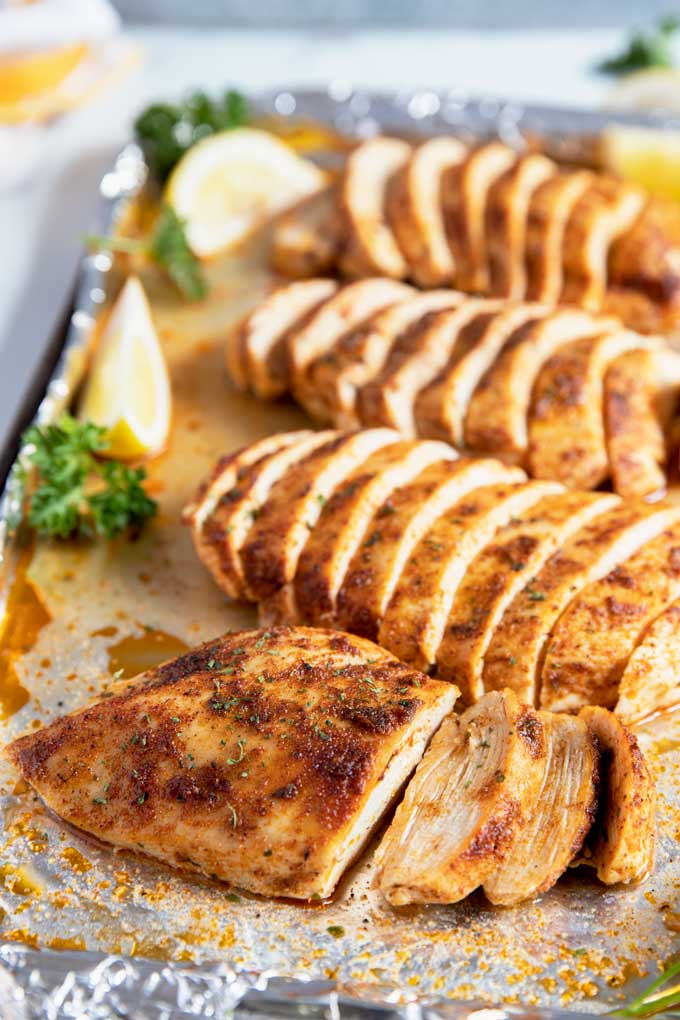 Easy Baked Chicken Breast
Baked Chicken Breast seasoned to perfection with a simple dry rub mixture and oven baked until tender and juicy. This easy Baked Chicken Breasts recipe is loaded with flavor! This is a super quick, easy, easy and flavorful recipe perfect for busy weeknights!

Prep Time
    •    Prep time: 5 minutes
    •    Cook time: 20 minutes
    •    Yield: Serves 4

Ingredients
For Dry Rub:
    •    1 tsp paprika
    •    1/2 tsp chili powder
    •    1/2 tsp garlic powder
    •    1/2 tsp onion powder
    •    1/2 tsp seasoned salt
    •    1/4 tsp ground black pepper

For Baked Chicken:
    •    1 tbsp olive oil
    •    4 boneless, skinless chicken breasts

Method
Heat the oven to 400 degrees Fahrenheit. Line a baking sheet with aluminium foil or parchment paper. You can also use a baking dish.

In a small bowl, mix the dry rub ingredients. Set aside.

Pat dry the chicken breasts with paper towels.

Place the chicken in a single layer on the baking sheet and drizzle with the olive oil. Rub the oil all over each chicken breast. Season the chicken with the dry rub on both sides.

Bake for 20 to 26 minutes or until the internal temperature reaches 165 degrees Fahrenheit. Time will vary depending on the size and thickness of each breast.

Remove from the oven and let the chicken rest for 5 minutes before slicing.
This great family recipe is thanks to Lemon Blossoms at https://www.lemonblossoms.com/blog/easy-baked-chicken-breast-2/