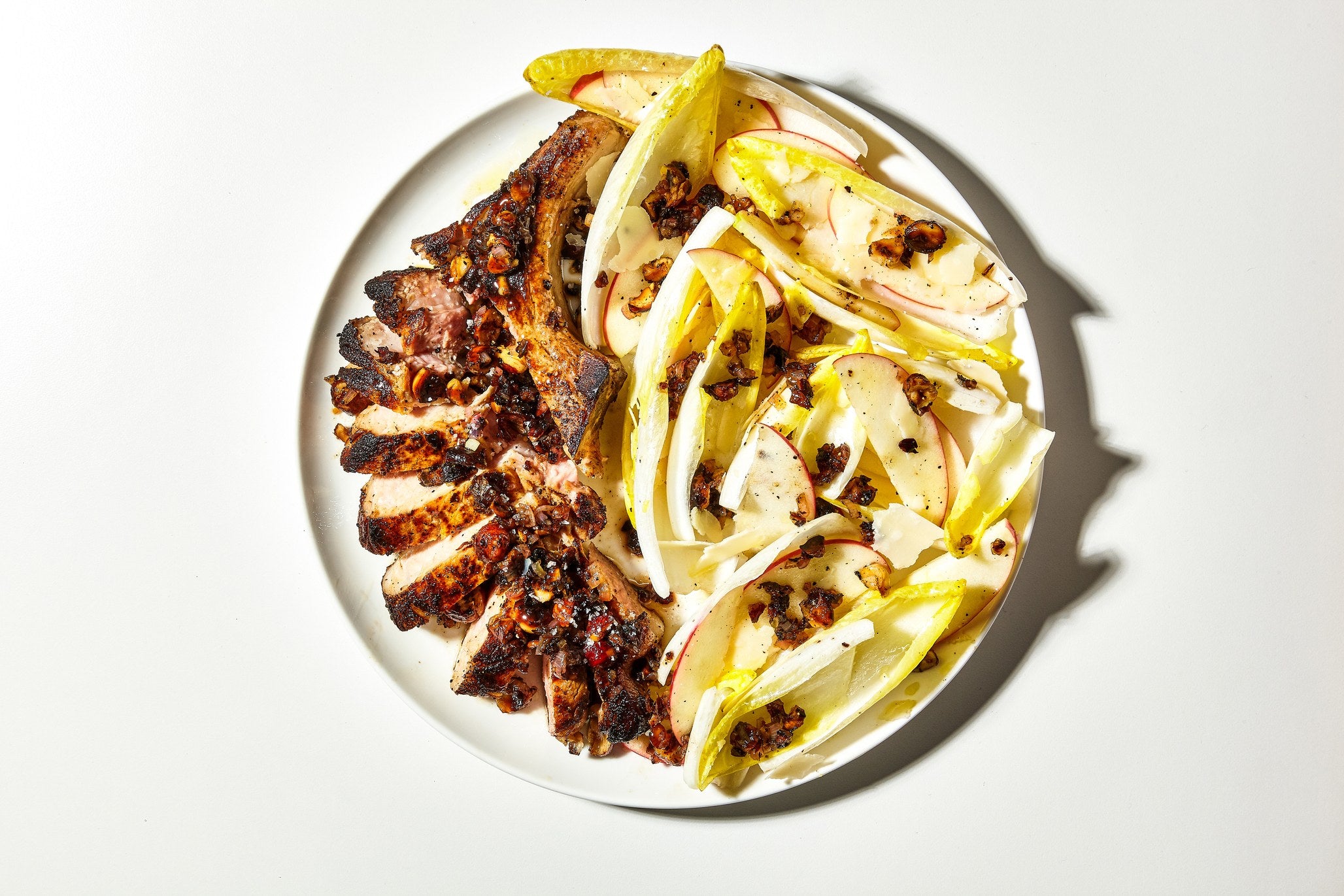 Rubbing a little honey across the surface of the pork before searing guarantees a shiny, caramelized crust. Pair that with a lemony endive and apple salad, and you've got the ultimate dinner for two.
Prep Time

    •    Prep time: 5 minutes
    •    Cook time: 25 minutes
    •    Yield: Serves 2
Ingredients
    •   1 lb. bone-in pork loin chop, 1–1½" thick
    •   Kosher salt
    •   Freshly ground black pepper
    •   1 oz. Parmesan
    •   3 Tbsp. raw unblanched hazelnuts
    •   1 medium shallot
    •   1 large or 2 small Belgian endive
    •   2 ½ tsp. honey, divided
    •   4 Tbsp. extra-virgin olive oil, divided
    •   1 lemon
    •   1 small Pink Lady apple
Method
You want to season your 1 lb. pork loin chop (1–1½" thick) in advance and let it sit out at room temperature (it cooks much more evenly that way). Pat chop dry with paper towels and place on a plate. Season generously on both sides with salt and pepper, turning with tongs; set aside while you do your prep (it can sit at room temperature up to 1 hour, but prep won't take you that long).
Shave 1 oz. Parmesan cheese with a vegetable peeler, then use your fingers to break into small shards. Cover with a damp paper towel (to prevent it from drying out).
Using the bottom of a medium skillet, preferably cast iron, smash 3 Tbsp. hazelnuts, a few at a time, on a cutting board, breaking into bits.
Peel 1 shallot, then finely chop.
Separate leaves from 1 large or 2 small endive, trimming from the bottom as you work your way to the core. Place in a medium bowl, cover with damp paper towel, and chill until ready to use.
Preheat skillet you used to smash hazelnuts over medium heat. Drizzle ½ tsp. honey over one side of pork chop, then drizzle with 1 Tbsp. oil. Rub with clean hands all over surface of chop, then turn and rub second side with same honey-oil mixture to evenly coat (this will help the pork caramelize as you cook it).
Lay pork in skillet and cook, leaving it be, until first side is dark brown and caramelized all over, about 3 minutes. Turn and cook second side until browned, about 3 minutes longer. Turn pork chop upright and hold on its side with tongs to sear fat cap; cook about 2 minutes.
Turn heat to low and cook chop another minute on both sides. Transfer to cutting board and insert an instant-read thermometer into middle of chop, about ½" from bone. It should register about 130°. If it's under, cook another minute or two, then let rest on cutting board 5–10 minutes. Remove skillet from heat.
Add hazelnuts and 2 Tbsp. oil to skillet. Cook over medium-low heat, stirring with tongs, until hazelnuts turn golden, about 3 minutes.
Add shallots; season with salt and pepper. Cook, stirring often, until shallots are softened and browned and hazelnuts smell toasty, about 2 minutes.
Stir in remaining 2 tsp. honey. Cut 1 lemon in half and squeeze juice from one half into skillet. Stir to combine, then remove from heat.
Cut around core of 1 apple, removing flesh in 3 lobes. Thinly slice 2 of the 3 pieces, then snack on the remaining piece if you like.
Remove bowl of endive from refrigerator and add apple and cheese; season with salt and pepper. Drizzle with remaining 1 Tbsp. oil, squeeze second lemon half over, and toss to coat.
Cut bone away from chop and cut meat into ½"-thick slices. Place pork and bone on one side of a large plate and pour juices over; season with salt.
Gently arrange salad next to chop. Spoon shallot-hazelnut mixture over salad and pork and serve.


This great family recipe is thanks to Bon appetit Recipes at https://www.bonappetit.com/recipe/date-night-pork-chop