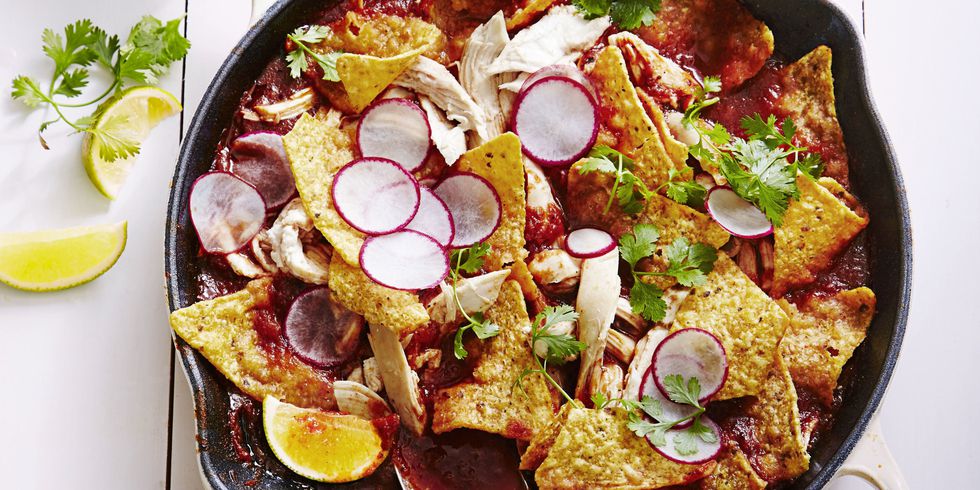 Use extra-thick tortilla chips (we like Late July and Garden of Eden) which will stay crisp.
Prep Time
    •    Prep time: 5 minutes
    •    Cook time: 10 minutes
    •    Yield: Serves 4

Ingredients
    •   1 28-oz. can fire roasted tomatoes
    •   2 green onions, sliced
    •   1 tsp. ground cumin
    •   1/4 tsp. kosher salt
    •   2 tbsp. oil
    •   2 c. shredded cooked chicken
    •   6 oz. tortilla chips
    •   Radishes, sliced, for serving
    •   Cilantro, for serving
    •   Lime wedges, for serving
    •   1/2 c. sour cream
    •   1 tbsp. lime juice
Method: Puree tomatoes, green onions, cumin, and salt until smooth. In 12-inch skillet, heat oil on medium; add tomato mixture. Partially cover; cook 8 minutes or until slightly thickened. Stir in chicken and tortilla chips. Cook 2 minutes, uncovered. Serve with radishes, cilantro, lime wedges, and sour cream mixed with lime juice.



This great family recipe is thanks to delish Recipes at https://www.delish.com/cooking/recipe-ideas/recipes/a44257/chicken-chilaquiles-recipe/