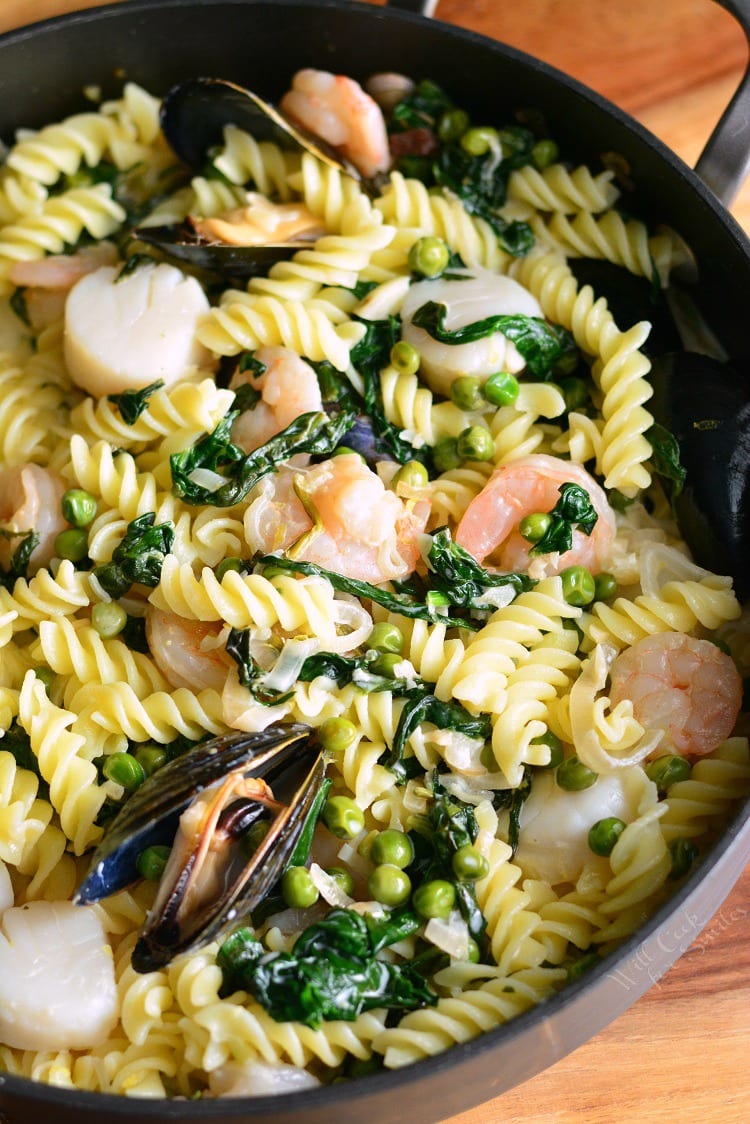 Creamy Spinach and Peas Seafood Pasta
I have a great spring recipe for you today, loaded with fresh seafood and veggies. It's a fairly simple dish and what I love most about seafood, is how fast it cooks. Tasty and easy seafood pasta dish loaded with different kinds of seafood, spinach, and peas.
This pasta dinner is made with shrimp, scallops, mussels, spinach, and peas. Seafood, pasta, and veggies are simmered in a delicious creamy sauce made with white wine, basil, and a touch of lemon zest.
This pasta dish is made even better by the fact that you can use pretty much any seafood you want. You can chop raw salmon into chunks and add it with other seafood. You can also use other types of fish, lobster, calamari, and even crab. Just be careful to pick out all the shells out of crab meat first and add it towards the end of cooking process. Also, try to keep all the cuts about the same size to ensure even cooking.
Prep Time
    •    Prep and cook time: 30 minutes
    •    Yield: Serves 4

Ingredients
    •    salt
    •    3/4 lb dry pasta
    •    2 shallots, sliced
    •    1/2 lb raw shrimp
    •    zest from 1 lemon
    •    1 cup frozen peas
    •    1/4 lb raw mussels
    •    1/2 lb raw scallops
    •    1/2 cup dry white wine
    •    3 garlic cloves, minced
    •    1 tbsp minced fresh basil
    •    5 oz fresh spinach, chopped
    •    1 cup heavy whipping cream
    •    1/2 cup water from cooking pasta

Method
Cook pasta according to the package instructions and set aside. SAVE 1/2 cup of water from cooking pasta.

Heat up a large cooking pan over medium heat and add a little bit of canola oil for cooking.

Add sliced shallots to the pan and cook until transparent.

Add minced garlic to the onions, stir and cook until fragrant.

Add peas and chopped spinach. Mix, cover and cook until spinach is done. Season with some salt.

Add wine and simmer for about a minute. Add pasta water and stir.

Add mussels  to the pan, cover and cook for about 4 minutes.

Add shrimp and scallops. (If shrimp and scallops are very different size, then add the larger one first to cook a little longer and then smaller one. Ex., if using baby scallops, they would be much smaller than shrimp and cook faster, so add them a little later.) Cover and cook everything until seafood is just about done.

Add heavy whipping cream, lemon zest, basil, and some more salt. Stir and cook for a couple more minutes.

Stir in cooked pasta and serve.
This great family recipe is thanks to Will Cook For Smiles at https://www.willcookforsmiles.com/creamy-spinach-and-peas-seafood-pasta/