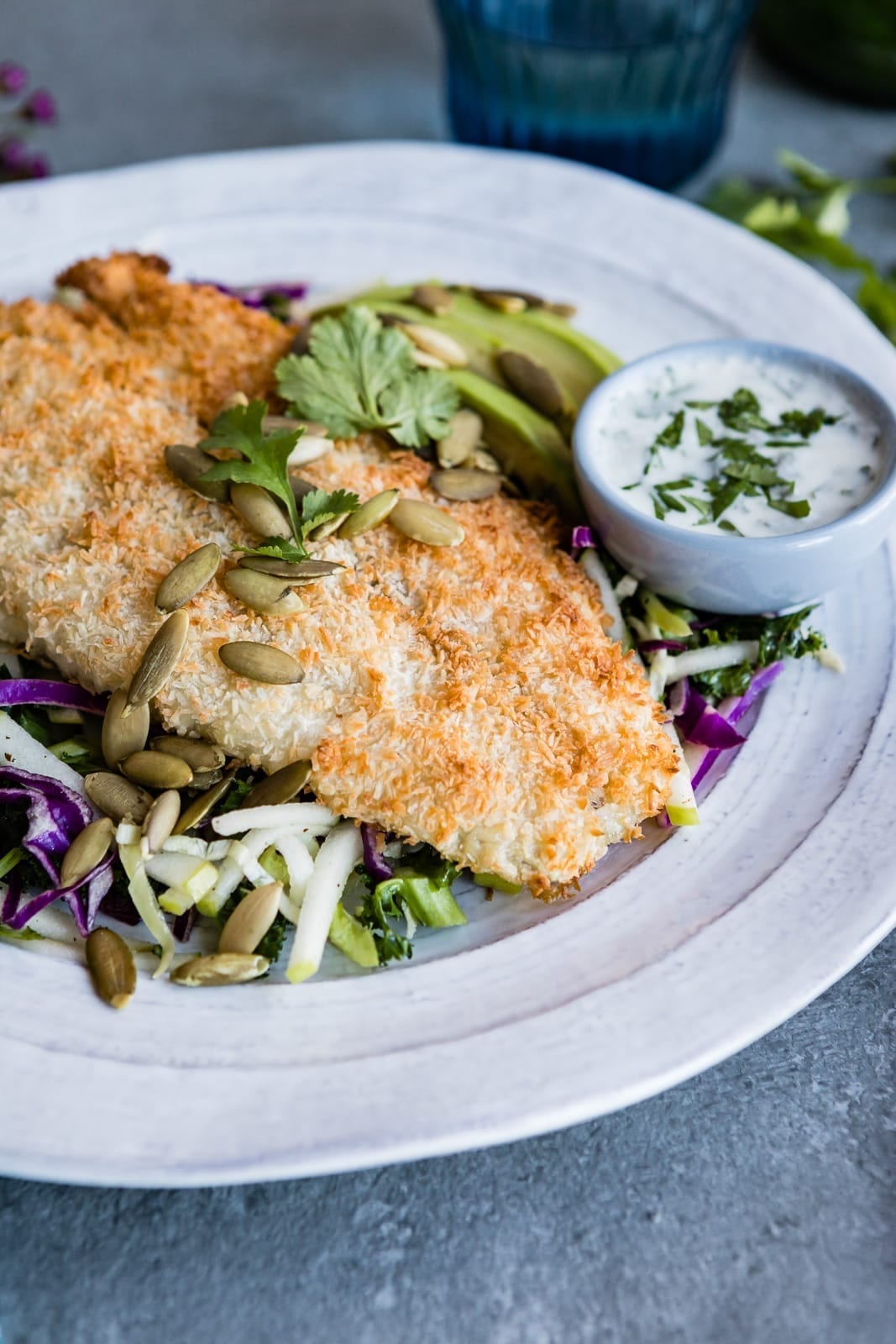 Coconut Crusted Barramundi with Green Apple Slaw
Crunchy, Sweet and Light. Coconut and barramundi are a wonderful match in this recipe. The fish fillets are first encrusted with unsweetened coconut and baked to crisp, toasty perfection.
To accompany the fish, there is a bed of crunchy, fresh Green Apple Slaw which adds great texture and color. To top it all off, the fish is served with a tangy Coconut-Lime Sauce.
Prep Time
    •    Prep time: 20 minutes
    •    Cook time: 20 minutes
    •    Yield: Serves 4

Ingredients
    •    sea salt, to taste
    •    1 tsp honey to taste
    •    1 tbsp fresh lime juice
    •    2 tbsps fresh lime juice
    •    1 tbsp honey or maple syrup
    •    handful cilantro (coriander herb)
    •    1 green apple cored and julienned
    •    1/4 cup canned coconut milk, full-fat
    •    1/2 cup plain white flour or cornstarch
    •    2 tbsps flavourless oil, such as avocado
    •    1 large egg, lightly beaten with 1 tbsp water
    •    1 cup unsweetened coconut flakes, shredded
    •    1/4 cup cilantro (coriander herb), finely chopped
    •    3 cups coleslaw mix packaged, without dressing
    •    4 x 6 ounces barramundi fillets, thawed and patted dry

Method
Preheat oven to 400 F. Line a rimmed large baking sheet with parchment paper.
Set up a breading station. In a shallow dish or deep plate, combine flour or cornstarch with sea salt. In a small bowl, lightly beat egg and water. In a separate shallow dish or deep plate, add coconut.
Working one at a time, coat the barramundi fillets first with flour or cornstarch mixture until lightly coated. Next dip into the beaten egg, then onto the coconut. Press the fillets gently so the coconut adheres. Arrange fillets in a single layer on the baking sheet. Place in oven and bake for 8 minutes. After 8 minutes, flip the fillets and bake for an additional 8-10 minutes until the fish is cooked through or until it flakes easily. The coconut will be golden and smell toasty!
Meanwhile, make the coconut-lime sauce. Whisk coconut milk, cilantro, lime juice, honey and sea salt together in a small mixing bowl. Set aside.
Make the apple slaw. In a medium bowl, mix together the oil, lime juice, and honey. Toss in vegetable mix and apple. Season well with salt and pepper.
When barramundi is cooked through and coconut coating is toasted, assemble plates. Place a heaping portion of apple slaw onto a plate, top with fish fillet and garnish with cilantro. Drizzle with the coconut-lime sauce or serve it alongside. Serve immediately.
This great family recipe is thanks to The Better Fish at https://www.thebetterfish.com/recipe/coconut-crusted-barramundi-with-green-apple-slaw/