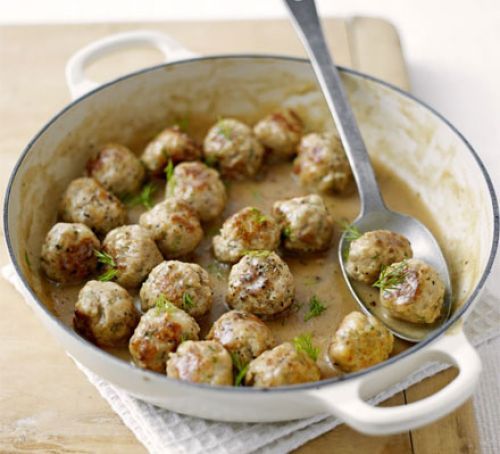 Classic Swedish Meatballs
Now you can recreate the meatballs you've enjoyed on furniture shopping trips at home...
Prep Time
    •    Prep time: 15 minutes
    •    Cook time: 20 minutes
    •    Yield: Serves 4
Ingredients
    •    1 egg, beaten
    •    2 tbsps plain flour
    •    400g lean pork mince
    •    85g fresh white breadcrumbs
    •    1 tbsp each olive oil and butter
    •    1 small onion, finely chopped or grated
    •    400ml hot beef stock (from a cube is fine)
    •    1 tbsp finely chopped dill, plus extra to serve
Method
In a bowl, mix the mince with the egg, onion, breadcrumbs, dill and seasoning. Form into small meatballs about the size of walnuts – you should get about 20.
Heat the olive oil in a large non-stick frying pan and brown the meatballs. You may have to do this in 2 batches. Remove from pan, melt the butter, then sprinkle over the flour and stir well. Cook for 2 mins, then slowly whisk in the stock. Keep whisking until it is a thick gravy, then return the meatballs to the pan and heat through. Sprinkle with dill and serve with cranberry jelly, greens and mash.


This great family recipe is thanks to BBC Goodfood Recipes at https://www.bbcgoodfood.com/recipes/classic-swedish-meatballs