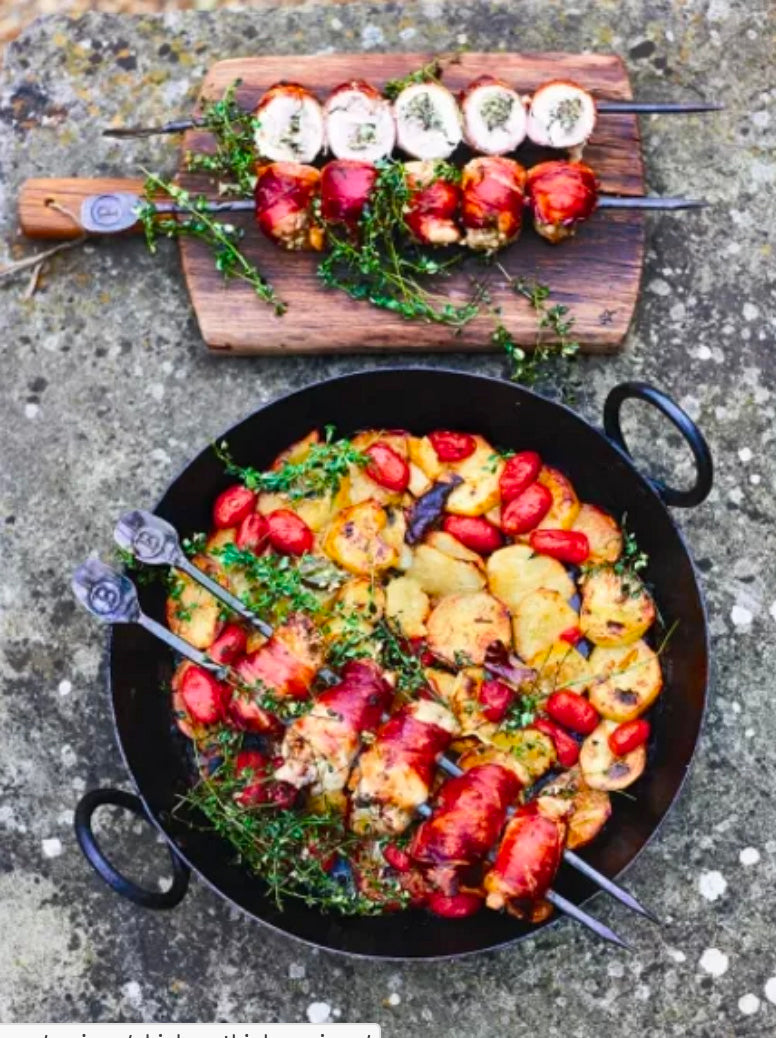 This is such fun – we cook wrapped, stuffed chicken thighs across two skewers so they get crisp and gnarly on the outside, then we slice between them to reveal the tender white meat inside. The potatoes are the real star – they suck up the chicken juices as they cook, becoming wonderfully stodgy and melt-in-your-mouth.
Prep Time
    •    Cook time: 1 hour & 20 minutes
    •    Yield: Serves 6
Ingredients
    •    60g blanched almonds
    •    6 cloves of garlic
    •    1 tbsp balsamic vinegar
    •    1 tbsp baby capers in brine
    •    6 anchovy fillets in oil , from sustainable sources
    •    1 bunch of fresh flat-leaf parsley , (30g)
    •    10 skinless, boneless free-range chicken thighs
    •    10 slices of higher-welfare prosciutto
    •    1.2 kg potatoes
    •    300 g ripe cherry tomatoes
    •    olive oil
    •    1 bunch of fresh thyme , (30g)
    •    extra virgin olive oil
Method
Preheat the oven to 200ºC/400ºF/gas 6. Put the almonds into a food processor and pulse to rough crumbs. Peel and add the garlic, add the balsamic and capers, the anchovies and a splash of their oil, then tear in the top leafy half of the parsley and pulse until fairly fine. Open the chicken thighs out on to a board, smooth side down, and pound with your fist or a rolling pin until flattened and tenderized. Divide the stuffing between them and roll up, wrapping each thigh in a slice of prosciutto. Double skewer 5 thighs across two long metal skewers, then repeat.


Peel the potatoes and slice 1cm thick, then parboil in a large pan of boiling salted water for 6 minutes. Prick each tomato with the tip of a sharp knife and add to the pan for the last 40 seconds, then drain it all. Once cool enough to handle, pinch the skins off the tomatoes. Layer the potatoes in a large, sturdy baking dish, seasoning with sea salt and black pepper, and drizzling lightly with olive oil as you go, then scatter over the tomatoes. Nestle the skewers on top so that all the tasty juices drip down over the potatoes as they cook. Roast for 30 minutes. Dip the bunch of thyme in olive oil, then use it as a brush to baste the chicken and potatoes with the pan juices. Sprinkle the thyme sprigs over the dish and return to the oven for a final glorious 10 minutes. Slice between the skewers, then drizzle with extra virgin olive oil, to serve. If you like your potatoes super-crisp, pop them back into the oven for an extra 10 minutes at the end.


This great family recipe is thanks to Jamie Oliver Recipes at https://www.jamieoliver.com/recipes/chicken-thighs-recipes/chicken-skewers/