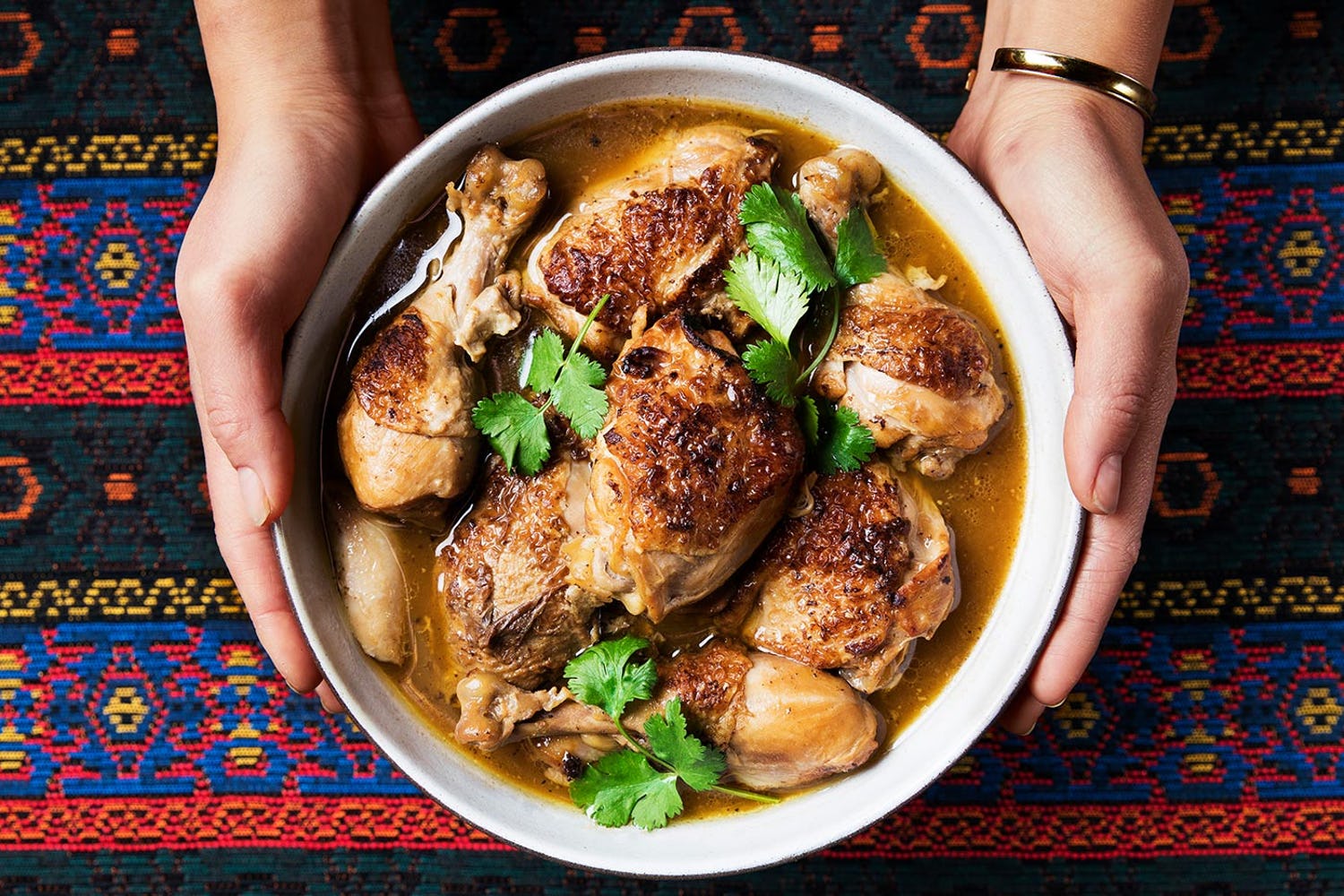 Chicken Adobo is probably one of the most well-known Filipino dishes, and rightfully so. Meat is simmered in a rich broth of stock with soy sauce and vinegar for a tangy and salty braise.
Prep Time
    •    Prep time: 25 minutes, plus overnight brining
    •    Cook time: 1 hour and 45 minutes
    •    Yield: Serves 4-6


Ingredients
For the Brine:

    •    1 cup kosher salt
    •    1 cup light brown sugar
    •    16 cups cold water, divided
    •    ½ cup calamansi juice, or lime juice


For the Adobo:
    •    2 bay leaves
    •    ½ cup soy sauce
    •    ¼ cup vegetable oil
    •    12 cups chicken stock
    •    ¼ cup all-purpose flour
    •    16 garlic cloves, peeled
    •    ¾ cup Datu Puti vinegar
    •    Steamed rice, for serving
    •    1 stick unsalted butter, softened
    •    6 chicken legs, thighs and drumsticks separated


Method
Make the brine: In a large pot, heat 4 cups of the water with the salt, brown sugar and calamansi juice over high heat. Cook until the salt and sugar have dissolved, 1 to 2 minutes, then remove from the heat and add the remaining 12 cups of cold water to cool the brine.


Make the adobo: Place the chicken thighs and drumsticks in the cooled brine. Cover with a lid or plastic wrap and refrigerate overnight.


The next day, remove the chicken from the brine and pat dry. Discard the brine, clean the pot and return it to the stovetop. Add the oil and heat over medium-high heat. Working in batches, sear the chicken, turning as needed, until golden brown, 5 to 7 minutes per batch, then transfer to a plate.


Once all the chicken is seared, add the garlic and cook until lightly golden, 1 to 2 minutes. Slowly add in the chicken stock, using a wooden spoon to scrape off any of the fond on the bottom of the pan. Add the seared chicken with the vinegar, soy sauce and bay leaves, then bring to a simmer.


Cook, uncovered, until the stock has reduced slightly and the chicken is fall-off-the-bone tender, 1½ hours. Transfer the chicken to a large bowl and discard the bay leaves.



In a small bowl, combine the flour and butter. Using your hands, mix together until a thick paste forms. Working with a tablespoon at a time, whisk the flour mixture into the simmering liquid until it is incorporated, adding body to the broth. Ladle the broth over the chicken, then serve with rice.


This great family recipe is thanks to Tasting Table Recipes at https://www.tastingtable.com/cook/recipes/chicken-adobo-recipe-filipino