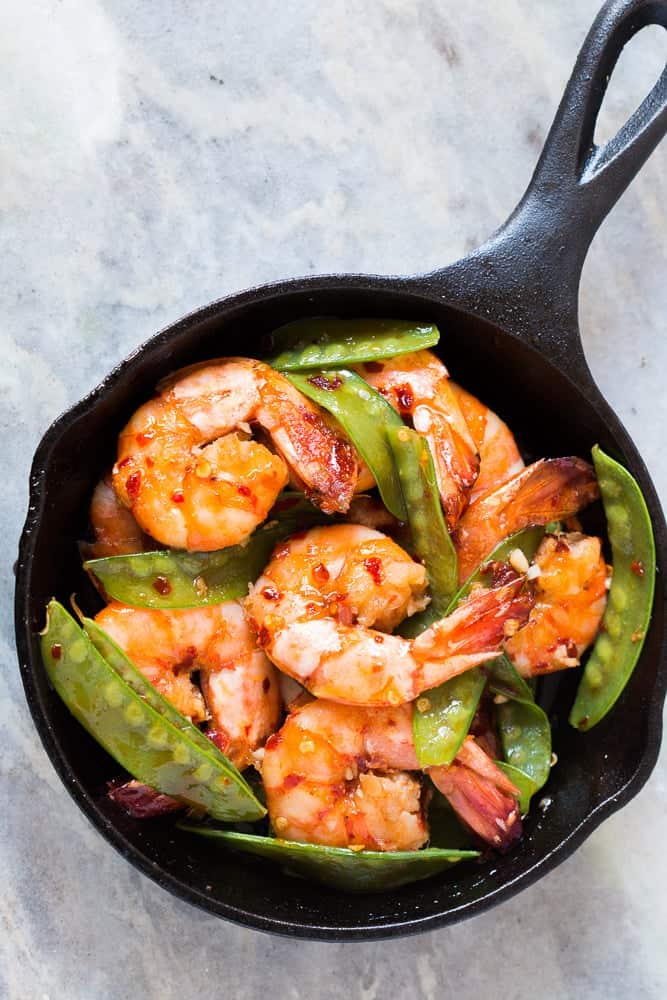 5 Ingredient Honey Chilli Garlic Tiger Prawns
Looking for meals under 15 minutes? This is it – 5 ingredient honey garlic chilli tiger prawns! All the asian flavours you love in this one easy recipe!
Prep Time
    •    Prep and cook time: 5 minutes
    •    Yield: Serves 4
Ingredients
    •    Salt to taste
    •    1 tbsp Honey
    •    1 tbsp Olive Oil
    •    1 cup Peas (Snow)
    •    1 tsp Garlic (Paste)
    •    3/4 tsp Chili (Flakes)
    •    500 grams Prawns (Tiger , cleaned and deveined)
Method
Add tiger prawns to a bowl and add chili flakes and garlic paste to them. Mix and let them sit for 5 minutes while you prepare your snow peas or any other vegetable you are using.

Heat oil in a skillet or pan and add the tiger prawns. Stir fry them for 4-5 minutes and add honey, 3 tablespoons water, snow peas and salt. Because of the honey, it should start becoming a little saucy. Switch off the flame after a minute or two, just as soon as the snow peas look slightly steamed and become a bright green.

Serve these 5 Ingredient Honey Chilli Garlic Tiger Prawns with some rice noodles or just plain steamed rice.


This great family recipe is thanks to My-Food-Story Recipes at https://myfoodstory.com/5-ingredient-honey-chilli-garlic-tiger-prawns-recipe/