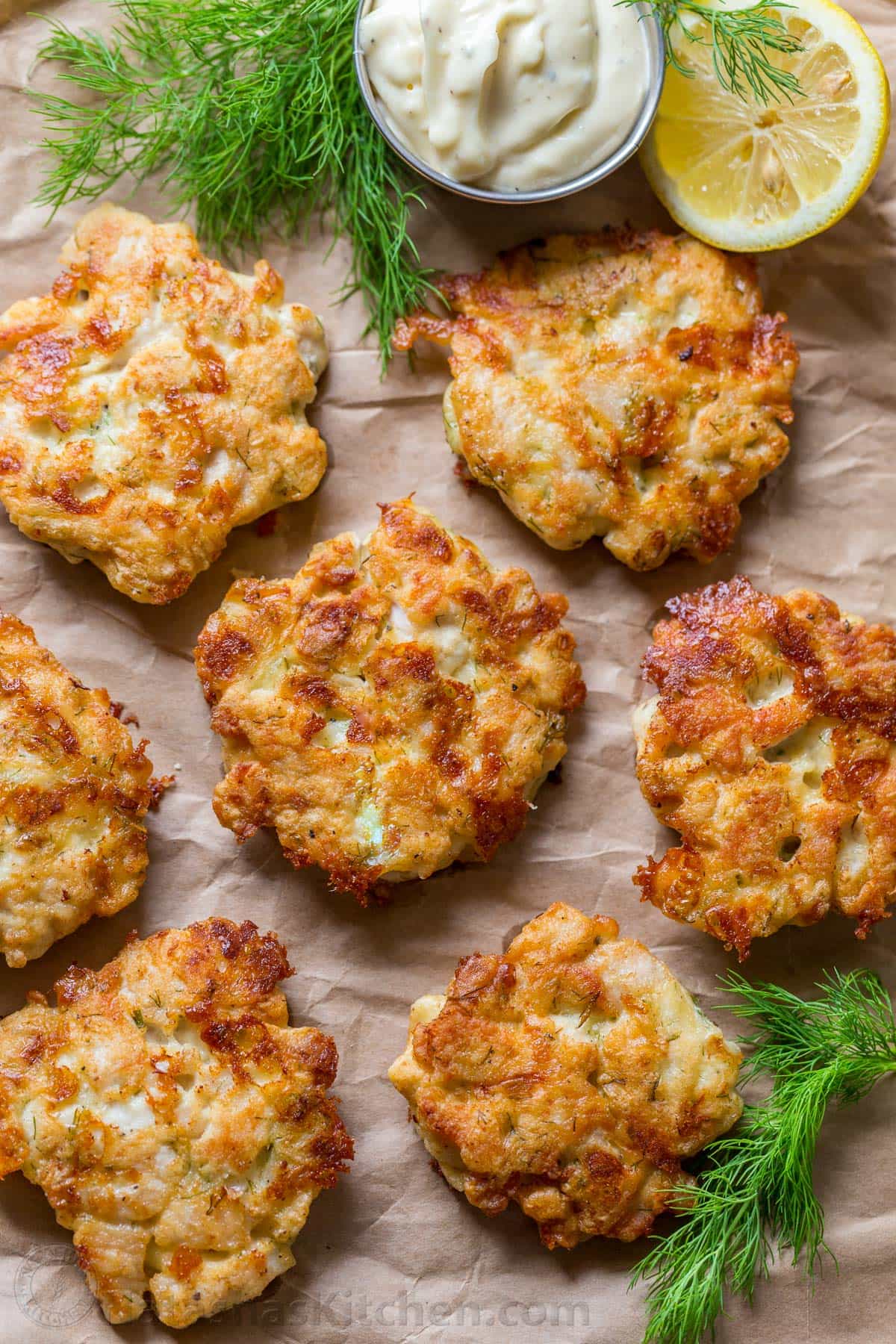 Cheesy, Juicy and Flavorful Chicken Fritters always get glowing reviews. If you love easy chicken recipes, this is your recipe!
These Cheesy Chicken Fritters are a surprising way to use chicken breast, but it really works. These fritters are tender, juicy and so flavorful. If you love easy chicken recipes, THESE chicken patties are for you!
Honestly these chicken patties disappear just as soon as they are out of the pan, but you could serve them as appetizers, between sliders as mini chicken sandwiches or as a side for dinner. These are a crowd pleasing treat and seriously try them with that garlic aioli which is all kinds of yum!
If you're pressed for time, you can cook this recipe right away after it is mixed but if you are patient or want to exercise the make-ahead option, refrigerate the mixture for 2 hours or overnight and the results will be even more juicy and flavorful.
Prep Time
    •    Prep time: 10 minutes
    •    Cook time: 20 minutes
    •    Yield: Serves 8

Ingredients
For Chicken Fritters:
    •  1 1/2 lbs chicken breasts (3 large)
    •  2 large eggs
    •  1/3 cup mayonnaise
    •  1/3 cup all-purpose flour or cornstarch or potato starch for gluten free
    •  4 oz mozzarella cheese (1 1/3 cups shredded)
    •  1 1/2 Tbsp chopped fresh dill
    •  1/2 tsp salt or to taste
    •  1/8 tsp black pepper
    •  2 Tbsp Extra light olive oil to saute (or any high heat cooking oil)
For Garlic Aioli Dip (Optional)
    • 1/3 cup mayonnaise
    • 1 garlic clove pressed
    • 1/2 Tbsp lemon juice
    • 1/4 tsp salt
    • 1/8 tsp black pepper
Method
Using a sharp knife, dice chicken into 1/3" thick pieces and place them in a large mixing bowl. Tip: If chicken breast is partially frozen, it will be a little bit easier to slice.

Into the mixing bowl, add remaining batter ingredients: 2 eggs, 1/3 cup mayonnaise, 1/3 cup flour, 1 1/3 cups shredded mozzarella, 1 1/2 Tbsp dill, 1/2 tsp salt and 1/8 tsp black pepper, or season to taste. Stir the mixture until well combined, cover with plastic wrap and refrigerate 2 hours or overnight.

Heat a large non-stick pan over medium heat and add 2 Tbsp oil. When oil is hot, add the chicken mixture a heaping Tablespoon at a time. Slightly flatten out the tops with the back of your spoon and sauté uncovered 3-4 min on the first side, then flip and saute 3 min on the second side or until outsides are golden brown and chicken is fully cooked through* Repeat with remaining fritters adding more oil as needed.

To make the aioli (if using), combine all ingredients in a small bowl or measuring cup and stir together until smooth.
NOTES: To test for doneness, cut a fritter in half and the chicken should be completely white inside. If your chicken patty is browning too fast, adjust your heat down.


This great family recipe is thanks to Natashas Kitchen Recipes at https://natashaskitchen.com/cheesy-chicken-fritters-video/?utm_source=MadMimi&utm_medium=email&utm_content=FINALLY%21