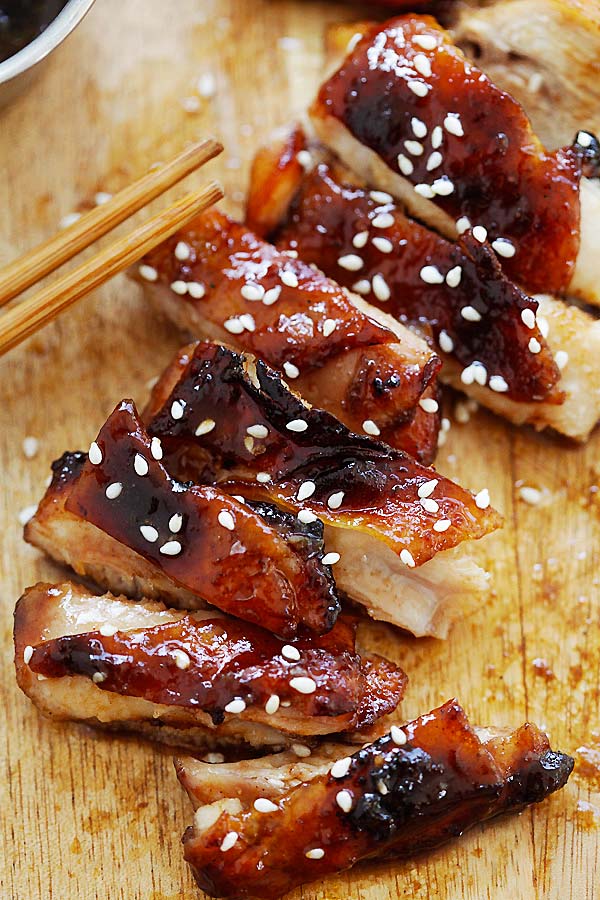 Char Siu Chicken - crazy delicious oven-roasted chicken with sweet, sticky and savory Chinese Char Siu marinade. This chicken is finger licking good, a must try recipe!
Prep Time
    •    Prep time: 10 minutes
    •    Cook time: 30 minutes
    •    Yield: Serves 3-4

Ingredients
    •    2 cloves garlic, minced
    •    1 lb. bone-in chicken thighs (450g)

For the chaar siu sauce:
    •    1 tbsp honey
    •    1 tbsp soy sauce
    •    1 tbsp oyster sauce
    •    1 tsp dark soy sauce
    •    1 tsp five-spice powder
    •    1/4 tsp white pepper powder
    •    3 1/2 oz sugar (100g/8.5 tbsps)
    •    1 tbsp Chinese Shaoxing wine or rice wine
    •    2 pieces Chinese fermented red bean curd (Optional)

Method
Debone the chicken thighs and keep the skin on.
In a bowl, mix all the Char Siu Sauce ingredients together. Stir to mix well. Add the garlic, chicken and the Char Siu Sauce together. Stir to coat well. (You may use half of the Char Siu Sauce to marinate the chicken and save the other half).
Preheat oven to 400 degrees F (200 degrees C). Place the chicken on a baking sheet lined with parchment paper. Roast for 20 minutes or until the skin is nicely charred. Slice the chicken into pieces and top with sesame seeds. Save the dripping and serve immediately with steamed rice.


This great family recipe is thanks to RASA MALAYSIA at https://rasamalaysia.com/char-siu-chicken/