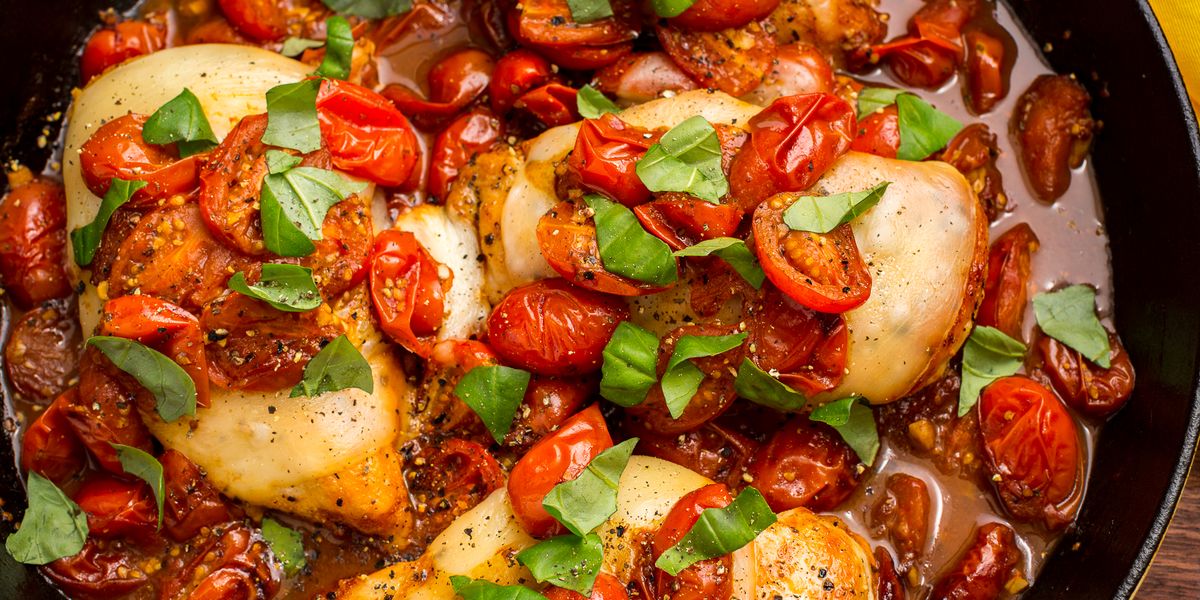 Tomatoes cooked in balsamic vinegar are the perfect sweet-tart compliment to this cheesy chicken.
Prep Time
    •    Prep time: 10 minutes
    •    Cook time: 20 minutes

    •    Yield: Serves 4
Ingredients
    •    kosher salt
    •    4 slices mozzarella
    •    2 cloves garlic, minced
    •    2 tbsps freshly torn basil
    •    1/4 cup balsamic vinegar
    •    1 tbsp extra virgin olive oil
    •    freshly ground black pepper
    •    1 pt. grade tomatoes, halved
    •    1 lb. boneless skinless chicken breasts
Method
In a large skillet over medium-high heat, heat oil. Season chicken with salt and pepper and cook until golden and cooked through, 6 minutes per side. Transfer to a plate.
Add balsamic vinegar to skillet, then add garlic and cook until fragrant, 1 minute. Add tomatoes and season with salt. Let simmer until soft, 5 to 7 minutes. Stir in basil.
Return chicken to skillet and nestle in tomatoes. Top with mozzarella and cover with a lid to melt.
Spoon tomatoes over chicken and serve.


This great family recipe is thanks to delish Recipes at https://www.delish.com/cooking/recipe-ideas/recipes/a47169/caprese-chicken-recipe/