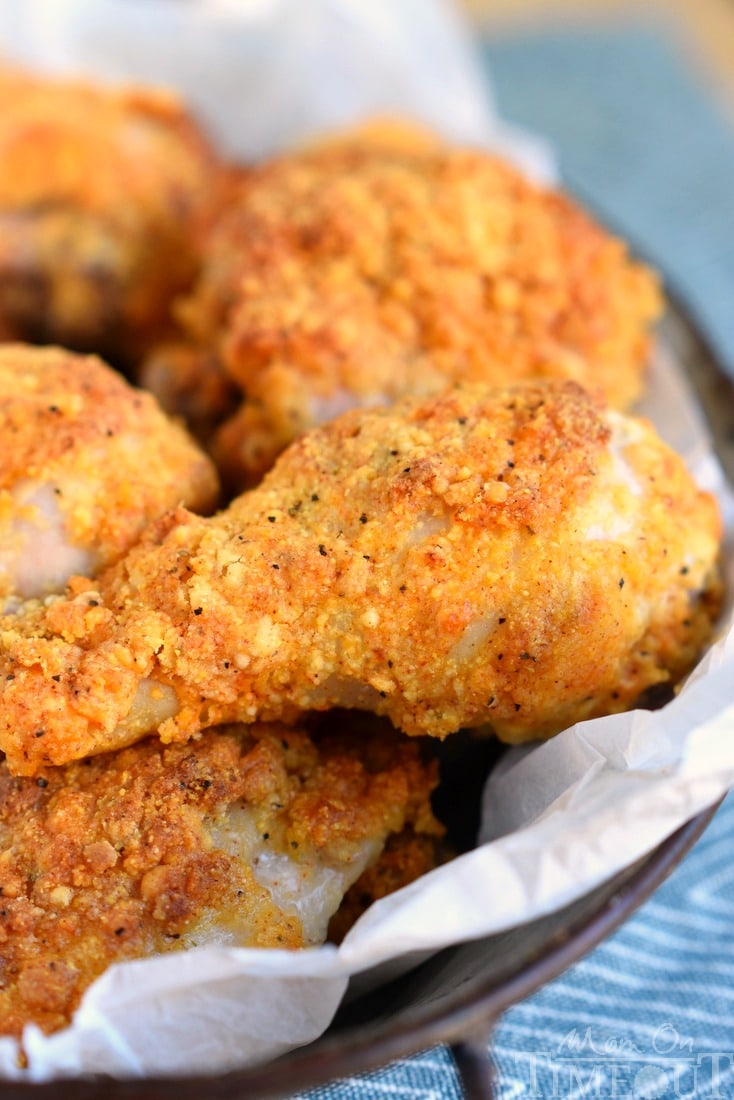 Buttermilk Ranch Oven Fried Chicken
This Buttermilk Ranch Oven-Fried Chicken is bound to become a new family favorite! This recipe is perfect for a quick and easy dinner any night of the week! The chicken comes out so juicy and moist on the inside and crunchy on the outside - just the way we like it!
Prep Time
    •    Prep time: 10 minutes
    •    Cook time: 35 minutes
    •    Yield: Serves 6

Ingredients
    •    1 tsp salt
    •    1 tsp pepper
    •    1 tsp paprika
    •    1/4 tsp cayenne
    •    2 cups buttermilk
    •    8.5 oz corn muffin mix
    •    3 to 4 lbs chicken drumsticks skin on or off
    •    1 oz envelope ranch salad dressing and sesoning mix

Method
Combine chicken, ranch seasoning, and buttermilk in a large ziploc bag.
Turn the bag over several times to ensure the chicken is coated with the ranch and buttermilk and place in the refrigerator. Refrigerate for the entire day or at least one hour.
Preheat the oven to 425F.
Spay a large baking sheet with cooking spray and set aside.
Combine corn muffin mix and seasonings in a shallow bowl.

Remove the chicken pieces one at a time and shake off the excess buttermilk.

Dip the chicken in the breading, turning to evenly coat. Shake off excess and place chicken, bone side down, on the prepared baking sheet.

Repeat for remaining chicken pieces.

Lightly spray the top of each piece of chicken with cooking spray.

Bake for 35 to 40 minutes or until chicken is cooked through and juices run clear. Check the chicken at about 30 minutes and if the coating is turning too brown, just place a piece of foil lightly over the top of the chicken to prevent further browning.


This great family recipe is thanks to Mom-On-Timeout at https://www.momontimeout.com/buttermilk-ranch-oven-fried-chicken-recipe/