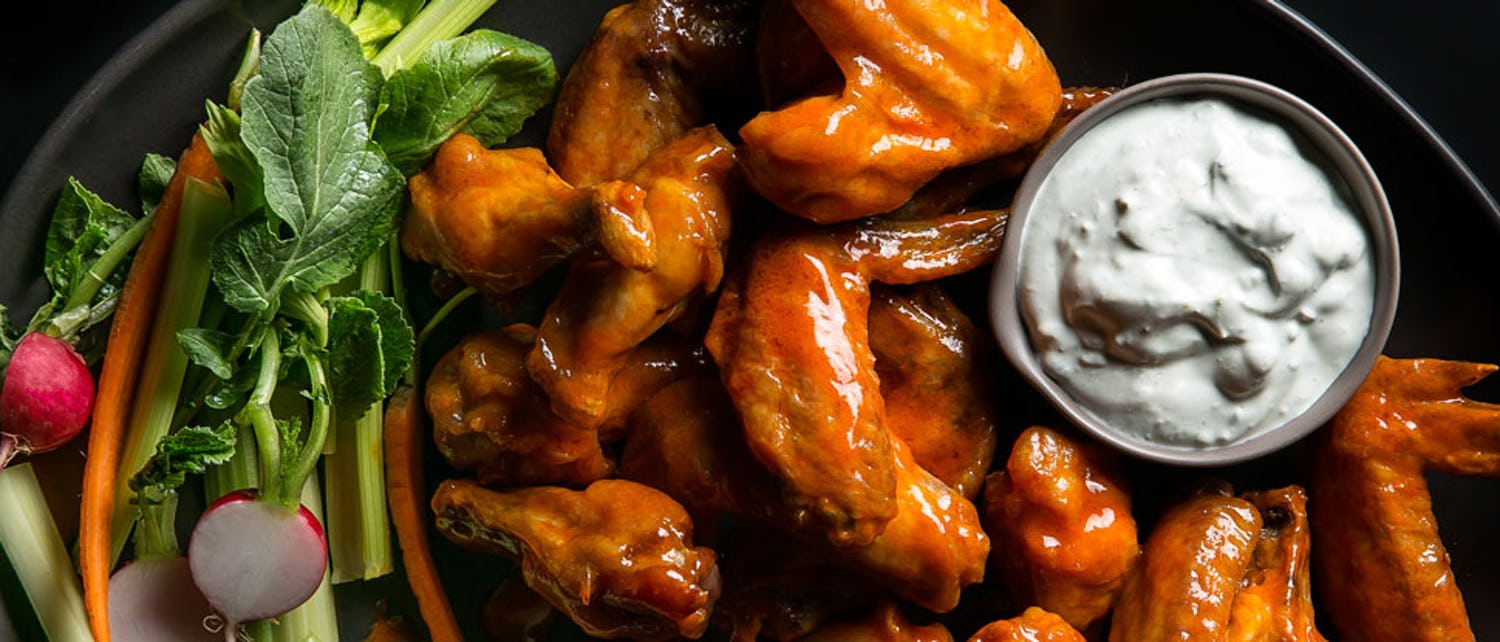 Buffalo Wings with Blue Cheese Dip
Prep Time
    •    Prep time: 30 minutes, plus chilling time
    •    Cook time: 35 minutes
    •    Yield: Serves 4

Ingredients
For the blue cheese dip:
    •    ¼ cup buttermilk
    •    ⅓ cup cour cream
    •    ⅓ cup mayonnaise
    •    1 tsp fresh lemon juice
    •    1 tsp grated lemon zest
    •    2 ounces (about ⅓ cup) mild blue cheese, crumbled
    •    kosher salt and freshly ground black pepper, to taste

For the buffalo wings:
    •    1 tsp kosher salt
    •    1 tsp baking soda
    •    2 large egg whites
    •    3 tbsps unsalted butter
    •    canola oil, for oiling rack
    •    ½ cup Frank's red hot original
    •    kosher salt and black pepper, to taste
    •    2 pounds whole chicken wings, separated into two pieces
    •    assorted vegetables (such as carrots, celery and radishes)

Method
Make the blue cheese dip: Whisk together the blue cheese, buttermilk, sour cream, mayonnaise, lemon juice and zest. Season with salt and pepper. Make ahead: The dressing can be made 2 days before, then covered and chilled until ready to serve.


Make the wings: Oil a wire rack set over a rimmed baking sheet. Place the egg whites, baking soda and salt in a mixing bowl and stir to disolve the baking soda and salt.


Toss the wings in the egg white mixture. Remove the wings, allowing the excess egg to drip off, and transfer to the the wire rack. Refrigerate the wings uncovered overnight to dry out.


Remove the wings from the fridge 30 minute before cooking.


Preheat the oven to 450°. Place the wings, still on the wire rack, in the oven and bake for 20 minutes. Flip the wings and continue to bake for another 10 to 15 minutes until they are crisp and golden brown.


Meanwhile, in a small saucepan over medium heat, add the butter and hot sauce and stir until the butter is melted and the sauce is warm, 2 minutes. Season with salt and pepper; set aside and keep warm.



Remove the wings and toss them in the the sauce. Serve the wings hot with blue cheese dressing and vegetables.


This great family recipe is thanks to Tasting Table Recipes at https://www.tastingtable.com/chefs_recipes/chefs_recipes/how-to-make-buffalo-wings-with-blue-cheese-dip