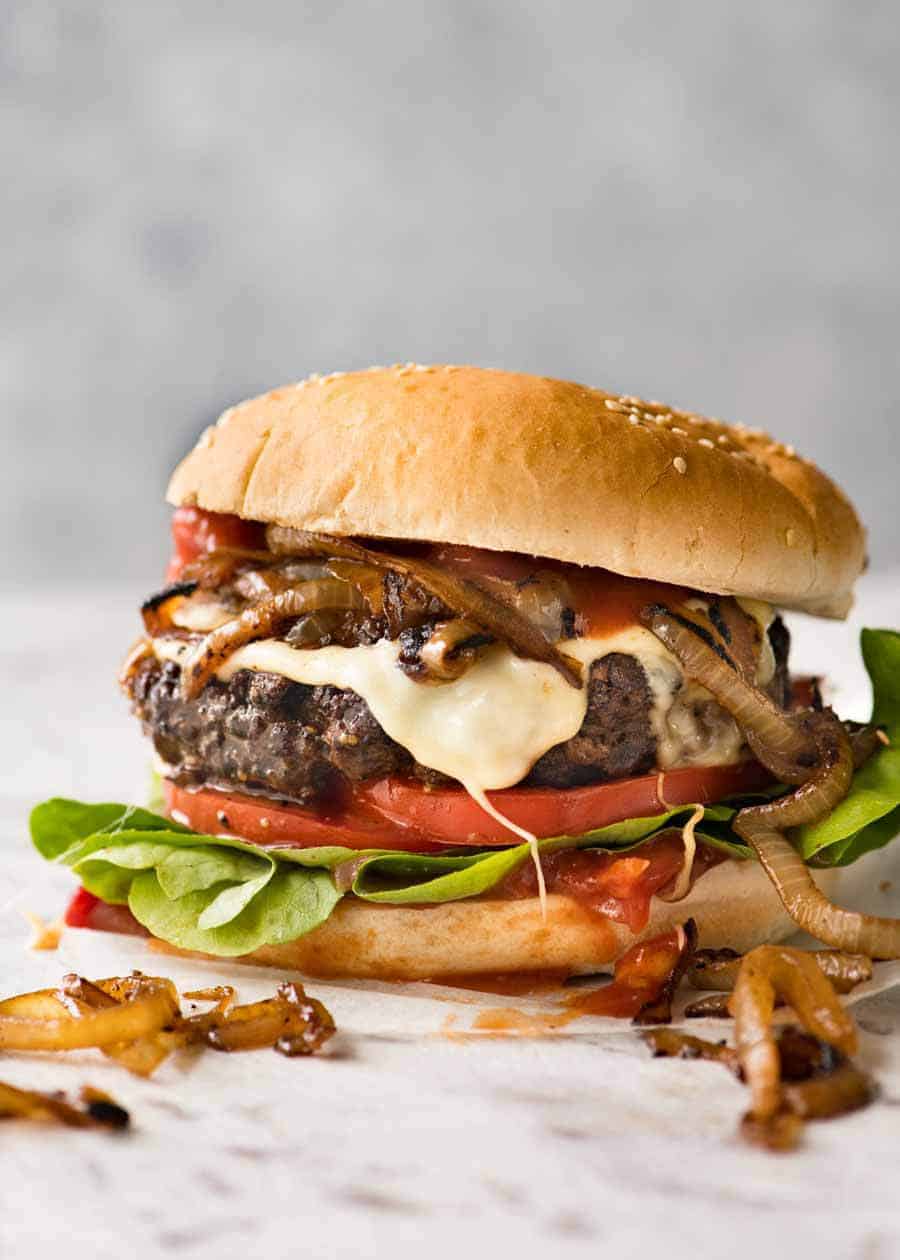 The best hamburger recipes are made with nothing more than beef, salt and pepper. I'm talking the ones you get from good steakhouses and diners. A great crust on the outside, juicy, beef and tender on the inside.
Homemade hamburgers are made for piling on toppings of choice. So don't let anyone tell you what should and shouldn't go on your burger!
All you need for great beef hamburgers is decent beef and lots of salt and pepper. This is the way it's done by all the grilling masters like Bobby Flay, and your favourite diners! 
Prep Time
    •    Prep time: 15 minutes
    •    Cook time: 20 minutes
    •    Yield: Serves 4


Ingredients
For Hamburger Pattie:
    •    2 tbsps oil
    •    salt and pepper
    •    800g - 1kg ground beef mince
    •    3 onions, peeled and sliced into rings
    •    4-8 slices cheese of choice, I use Swiss (Optional)


For Hamburger:
    •    lettuce, tomato slices
    •    4 soft hamburger buns, lightly toasted
    •    ketchup, mustard, relish, sliced pickles


Method
Separate beef into 4 equal portions. Use hands to lightly form into patties the size of your buns (mine are about 10 cm / 4") - don't press hard, light fingers = soft juicy patties.


Season generously with salt and pepper on both sides. Make a dent on one side (stop burger from become dome shape and shrinking when cooking).


Heat 1 tbsp oil in a heavy based skillet or BBQ over high heat. Add onion and cook until wilted and caramelised. Season with salt and pepper, then remove.


Heat 1 tbsp oil until smoking. Add patties and cook for 2 minutes until deep golden with a great crust. Do not press! Flip carefully, cook for 1 minute then top with cheese (if using). Cover with lid and cook for further 1 minute until cheese is melted.


Meanwhile, toast the cut side of the buns lightly.



To serve: Spread base of buns with sauce / condiment of choice. Top with lettuce then tomato, then hamburger patty. Pile over onions, sliced pickles, then more sauce/condiments. Top with lid of bun. Serve immediately.

NOTES:
    •    Fat is where the flavour is, so use a 20%+ fat beef mince (ground beef, preferably chuck). In Australia, even supermarket 20% fat beef mince is terrific, though quality beef from butchers (especially wagyu) will make exceptional hamburgers.
    •    To make this using lean mince which has flavourings added to compensate for less fat that provides flavour in this recipe. This is the original recipe I shared on the basis of making hamburgers using lower fat beef.


This great family recipe is thanks to Recipe-Tin-Eats Recipes at https://www.recipetineats.com/hamburger-recipe/