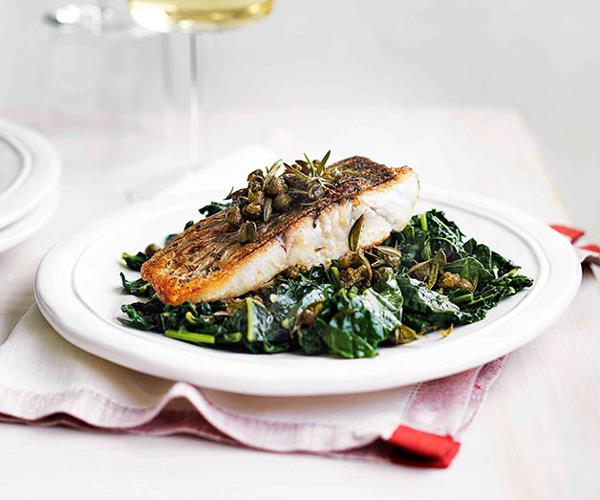 Barramundi with Cavolo Nero and Capers
Prep Time
    •    Prep and cook time: 30 minutes
    •    Yield: Serves 4

Ingredients
    •    40gm butter
    •    lemon halves to serve
    •    1 tbsp rosemary sprigs
    •    80ml mild extra-virgin olive oil
    •    4 golden shallots, finely chopped
    •    2 tbsps capers in vinegar, drained
    •    4 barramundi fillets (approx. 200gm each)
    •    2 bunches cavolo nero, coarsely chopped

Method
Heat 1½ tbsp oil in a wide saucepan over high heat, add shallot and stir occasionally until tender (5-10 minutes). Add garlic and cook for 20 seconds, then add cavolo nero, cover with a lid, stir occasionally until wilted and tender (5-7 minutes) and keep warm.
Meanwhile, heat a separate frying pan over high heat, add remaining oil, place fish skin-side down in pan and cook until golden (2-3 minutes), then turn and cook until golden and just cooked through (2-3 minutes). Add butter, capers and rosemary and cook until just crisp (1 minute).
Place cavolo nero on a plate, top with fish, spoon rosemary and capers over, season with sea salt flakes to taste, squeeze over plenty of lemon juice and serve.
This great family recipe is thanks to GOURMET TRAVELLER at https://www.gourmettraveller.com.au/recipes/fast-recipes/barramundi-with-cavolo-nero-and-capers-13322