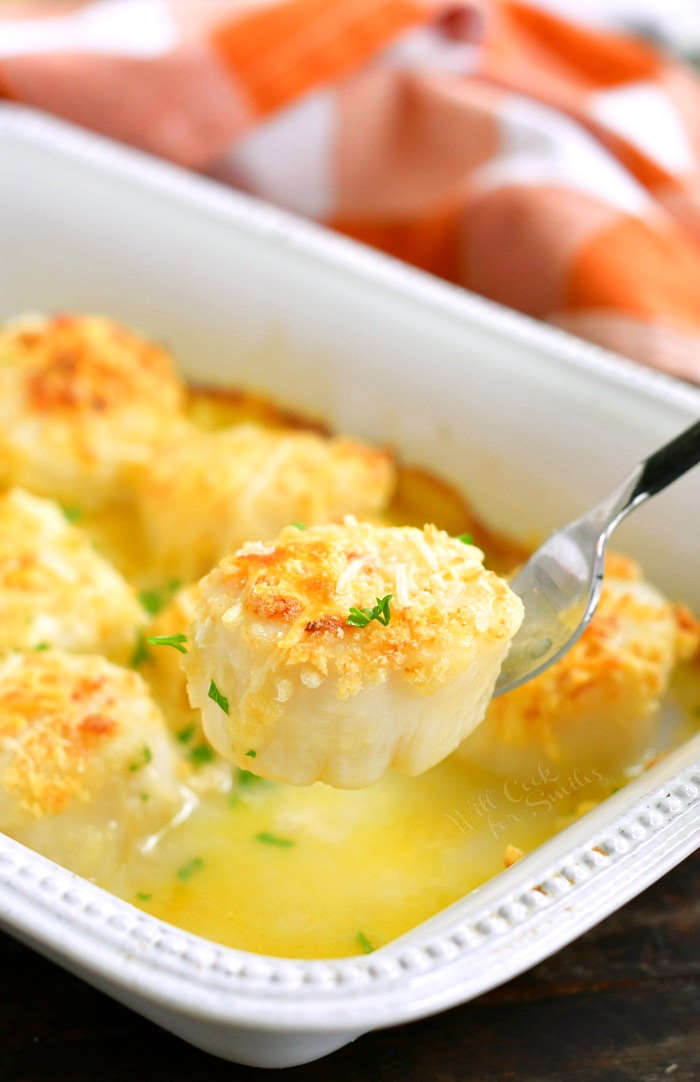 Baked Scallops are incredibly simple to make and taste like pure heaven. These buttery scallops are dipped in a mixture of butter and garlic first and then baked in Panko and Parmesan coating. It takes less than 30 minutes and a perfect dish for a special night or any time you want to treat yourself.
Prep Time
    •    Prep time: 10 minutes
    •    Cook time: 15 minutes
    •    Yield: Serves 4

Ingredients
    •    salt
    •    1 lb. sea scallops
    •    4 tbsps butter, melted
    •    3 garlic cloves pressed
    •    1/3 cup Panko bread crumbs
    •   3 tbsps grated Parmesan cheese
    •    1/2 cup shredded Parmesan cheese for topping

Method
Preheat the oven to 425°.

Mix melted butter, salt, and pressed garlic in a small bowl and set it aside.

Mix Panko bread crumbs and grated Parmesan cheese in another shallow bowl and set it aside.

Take scallops out of the package and pat each one dry with a paper towel.

Toss scallops in the melted butter mixture and then coat each one in Panko/Parmesan mixture on all sides.

Place coated scallops in a baking dish that's large enough to hold them with some space in between each one.

Carefully pour in remaining melted butter in between and around the scallops. (Don't pour on top.)

Sprinkle each scallop with some Parmesan cheese and bake for 10-14 minutes, depending on the size.
This great family recipe is thanks to Will Cook For Smiles at https://www.willcookforsmiles.com/baked-scallops/