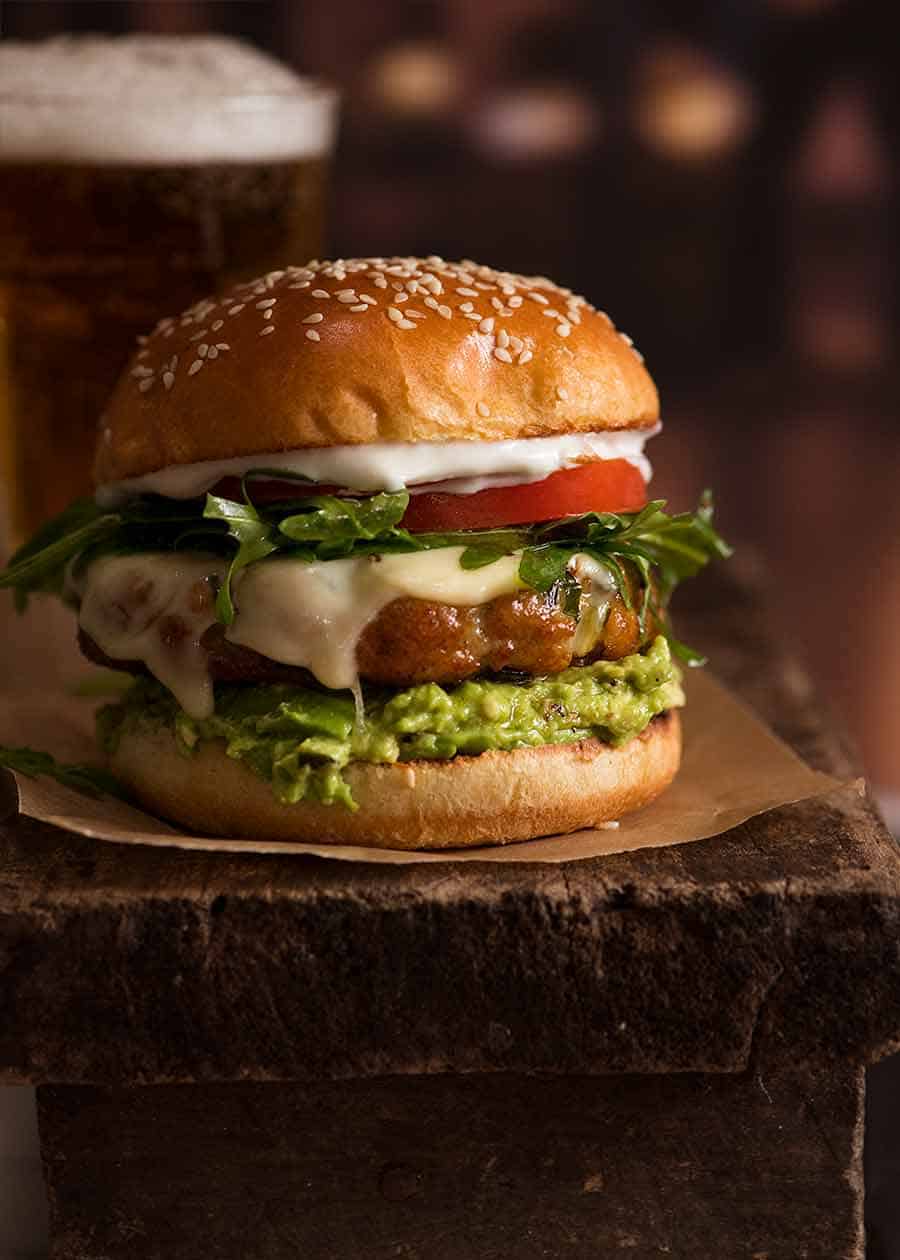 Chicken burgers can be so bland and boring. Not these! Made with ground chicken (mince), parmesan, garlic and a hint of dried sage, you'll love how these chicken burger patties are juicy on the inside with crispy golden edges.
Loaded onto soft toasted buns with a generous scoop of creamy avocado, this may well be the burger of your dreams!
Prep Time
    •    Prep time: 15 minutes
    •    Cook time: 10 minutes
    •    Yield: Serves 4

Ingredients
For Chicken Burger Patties:
    •    1 egg
    •    1/2 tsp dried sage
    •    2 garlic cloves, minced
    •    1 cup panko breadcrumbs
    •    500g gound chicken mince
    •    1/2 tsp salt and pepper, each
    •    1 cup green onion, finely sliced
    •    3/4 cup parmesan, finely grated

For Burgers:
    •    1 avocado
    •    2 tbsps olive oil
    •    2 tomatoes, sliced
    •    4 soft burger buns or brioche buns
    •    60g arugula or other lettuce of choice
    •    mayonnaise, relish, ketchup or tomato sauce
    •    4 slices Swiss cheese or other type of cheese you like

Method
For Chicken Burger Patties:
Place Pattie ingredients in bowl, mix well with hands.

Form 4 patties, 1.5cm / 3/5″ thick, slightly larger than the buns (shrinks slightly). If mixture is super sticky (Note 4), either refrigerate mixture for 30 minutes, or wet hands or lightly spray hands with oil.

Heat oil in skillet over medium high heat. Add patties, working in batches. Cook for 2 minutes or until deep golden, then flip.

After 1 minute, top with a piece of cheese and place lid on to melt cheese.

Once cheese is melted, remove patties from skillet.

For assemble:
Split buns and lightly toast in oven or under broiler/grill.

Cut avocado in half, scoop out a generous amount then "smash" it on the base of the bun with a fork. Sprinkle with salt and pepper.

Top with Chicken Pattie, then rocket/arugula and tomato.

Smear the top bun with mayonnaise (or relish, ketchup, other condiment of choice) and place lid on bun.
This great family recipe is thanks to Recipe Tin Eats at https://www.recipetineats.com/avocado-chicken-burger/