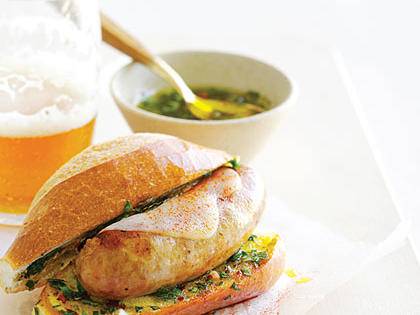 Argentine-Style Sausage Sandwiches
These big, bold, juicy sandwiches are from Morgan Robinson, chef-owner of Smoke Open Fire Cooking in Napa. He grills the sausages and melts the cheese on the grill too, in a small cast-iron skillet, then puts both on the table with crusty rolls and chimichurri. It's good to have an indoor option like this one.
Prep Time
    •    Prep time: 10 minutes
    •    Cook time: 35 minutes
    •    Yield: Serves 4-6

Ingredients
CHIMICHURRI:
    •   1 tablespoon minced garlic
    •   1 1/2 teaspoons red chile flakes
    •   1/2 cup extra-virgin olive oil
    •   6 tablespoons chopped flat-leaf parsley
    •   2 tablespoons minced fresh oregano leaves
    •   1/4 cup red wine vinegar
    •   Salt
SANDWICHES:
    •   4 sandwich rolls, such as Mexican bolillos
    •   1 teaspoon olive oil
    •   4 fresh Italian-style pork sausages (not hot)
    •   4 ounces sliced provolone cheese
    •   1/8 teaspoon sweet smoked Spanish paprika
Method
Mix 2 tbsp. boiling water, the garlic, and chile; let steep 3 minutes. Stir in remaining chimichurri ingredients; season with salt.
Halve rolls and toast, cut side up, in a 350° oven until crisp, about 10 minutes.
Heat oil in a large heavy frying pan over medium heat and add sausages. Cook, covered, turning often, until cooked through, 15 to 20 minutes. Top each with cheese, remove from heat, and cover until cheese melts. Sprinkle with paprika.
Spoon 2 to 3 tbsp. chimichurri onto roll halves and make a sandwich with sausages. Serve with remaining chimichurri.
NOTES: You can easily double or triple the sandwich part of the recipe (one batch of chimichurri, though, will be enough for at least 10 sandwiches).


This great family recipe is thanks to Myrecipes Recipes at https://www.myrecipes.com/recipe/argentine-sausage-sandwiches