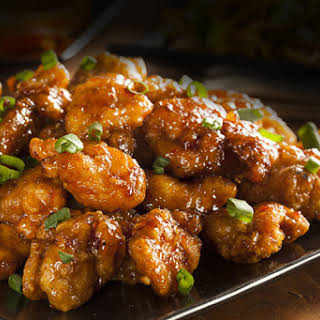 6-Ingredient Orange Chicken
A crowd favorite in the world of Chinese takeout, orange chicken traditionally fries chicken to crispy perfection and smothers the bits in a tangy citrus sauce. Unfortunately, this fast food dish flaunts a less-than-favorable nutritional profile. Luckily, SkinnyMs. has created a light alternative that calls for just six ingredients!
This orange chicken recipe delivers mouthwateringly juicy flavor without a frightening calorie count. Tender cubes of chicken are cooked until lightly golden, and coated in a tasty mixture of bbq sauce, freshly squezed orange juice, and lite soy sauce. With 100% clean ingredients and a protein-packed profile, this awesome recipe puts takeout dishes to shame!
Prep Time

    •    Prep time: 5 minutes
    •    Cook time: 40 minutes
    •    Yield: Serves 6
Ingredients
    •   1.25 pounds chicken breast fillets (about 3 breasts), cut into cubes
    •   3/4 cup flour (we used white whole wheat)
    •   3 tablespoons coconut oil
    •   2 navel oranges
    •   1/2 cup barbecue sauce
    •   2 tablespoon lite soy sauce, optional tamari
Method
In a gallon-sized ziplock bag, add chicken cubes and flour. Shake vigorously until chicken is well-coated. Remove chicken and shake off excess flour.
Add oil to a large skillet or wok, turn to medium heat, add cubed chicken and cook until lightly golden on all sides. Remove chicken and place on a paper towel. Drain any remaining oil from skillet.
Zest oranges and add to a mixing bowl. Squeeze juice from oranges, discard seeds, and add to the same bowl. Add barbecue and soy sauce and whisk to combine.
Add chicken and sauce mixture to the skillet. Toss to coat chicken. Cook on medium heat until sauce has thickened to desired consistency, about 10 minutes. Remove chicken with a slotted spoon and place on a platter.
Garnish with green onion slices, if desired. Add remaining sauce from the skillet to a bowl and serve along side chicken.


This great family recipe is thanks to Yummly Recipes at https://www.yummly.com/recipe/6-Ingredient-Orange-Chicken-2345371?prm-v1&utm_medium=email&utm_campaign=browse-email