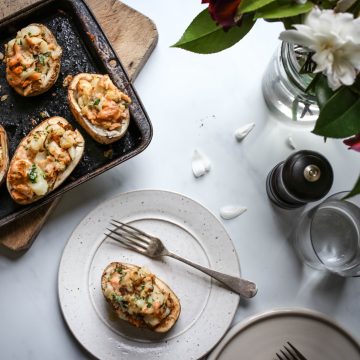 Huon Wood Roasted Salmon Baked Potatoes
Wood Roasted Huon Salmon stuffed into a baked potato shell makes an easy mid-week meal. Try using sweet potatoes for a delicious alternative.
Prep Time

    •    Prep time: 10 minutes
    •    Cook time: 30 minutes
    •    Yield: Serves 4
Ingredients
    •   2 x 150g Huon Wood Roasted Salmon (flaked)
    •   2 Tbsp olive oil
    •   2 Tbsp butter
    •   4 Medium baking potatoes, like Sebago or Kind Edwards
    •   2 Tbsp flat leaf parsley, finely chopped
    •   2 spring onions, finley chopped
    •   2 Tbsp crème fraiche
    •   1 Tsbp Dijon mustard
Method
Preheat the oven to 220°C.

Halve the potatoes lengthways, then carefully score the cut sides with a crisscross pattern. Drizzle the cut surface with the 1 tbs of the olive oil, then place on a baking tray and bake for 30 - 40 minutes until soft.

Preheat the grill. When the potatoes are cool enough to handle, use a dessert spoon to carefully scoop out the cooked potato flesh into a bowl, being careful not to pierce or tear the skins. Mash the hot potato roughly with the butter.

Then add the flaked Huon Salmon, parsley, spring onion, crème fraiche and mustard to the bowl and stir. Season to taste. Spoon the salmon mix back into the potato skins, drizzle with extra olive oil and grill for 5 minutes or until the tops start to colour.


This great family recipe is thanks to Huon Aqua Recipes at https://www.huonaqua.com.au/recipes/huon-wood-roasted-salmon-baked-potatoes/