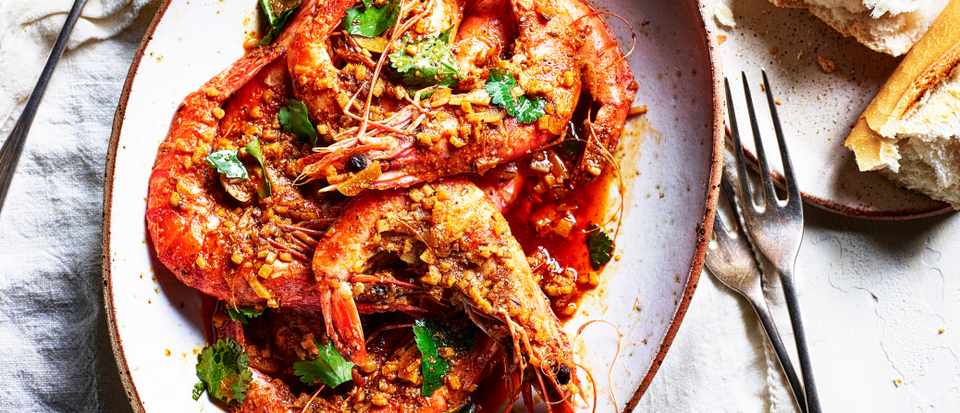 I use king prawns to create this Viet-Cajun Fried Prawns dish. Frying them in a mixture of Cajun and Vietnamese seasonings.
Prep Time
    •    Prep and cook time: 20 minutes
    •    Yield: Serves 2

Ingredients
    •    125g butter
    •    1-2 limes, juiced
    •    baguette to serve
    •    2 tsps vegetable oil
    •    1 tsp ground cumin
    •    1 tsp dried oregano
    •    1-2 tbsps fish sauce
    •    1/2 tsp garlic granules
    •    2 tsps smoked paprika
    •    1/2 tsp cayenne pepper
    •    2 cloves garlic, finely chopped
    •    300g raw shell-on king prawns
    •    s small bunch coriander, roughly chopped
    •    2 thumb-sized pieces ginger, finely chopped

Method
Toss the prawns in a bowl with the vegetable oil and a little seasoning, and heat a large frying pan until hot. Tip in the prawns and cook for 2-3 minutes or until charred at the edges.
Turn the heat down to medium and add the butter. Once foaming, add the garlic and ginger, and cook for 2 minutes, then add the spices and cook for a minute, while stirring. Simmer for several minutes until the prawns are cooked through, then add the lime juice and fish sauce to taste. Tip into a serving bowl and stir through the coriander. Serve with a baguette to mop up the buttery juices, if you like.
This great family recipe is thanks to Olive Magazine at https://www.olivemagazine.com/recipes/quick-and-easy/viet-cajun-fried-prawns/