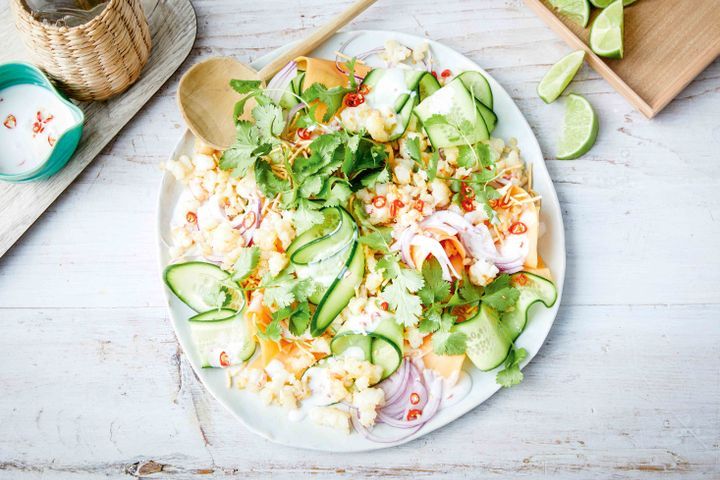 Thai Prawn and Papaya Salad
With a delicious coconut dressing, this fresh salad will be welcome at any gathering. Even better, it's ready in just 35 minutes.
Prep Time
    •    Prep time: 30 minutes
    •    Cook time: 5 minutes
    •    Yield: Serves 6

Ingredients
    •    1 tbsp vegetable oil
    •    1/3 cup fried noodles
    •    1 small red onion, halved, thinly sliced
    •    350g peeled green prawns, finely chopped
    •    2 cups loosely packed fresh coriander sprigs
    •    1/2 red papaya, peeled, seeded, thinly sliced
    •    2 small Lebanese cucumbers, peeled into ribbons

For the Thai coconut dressing:
    •    1 tbsp lime juice
    •    2 tsps raw sugar
    •    1 tbsp fish sauce
    •    2/3 cup coconut milk
    •    Extra sliced chilli, to serve
    •    Extra lime wedges, to serve
    •    1 long red chilli, seeded, finely chopped

Method
Heat oil in a large frying pan over high heat. Add prawns. Cook, stirring occasionally, for 3 minutes or until cooked through. Season with salt and pepper.
Arrange cucumber ribbons, papaya and red onion on a large serving plate. Top with prawns, fried noodles, coriander and extra chilli. Drizzle with coconut dressing. Serve with lime wedges.


This great family recipe is thanks to Taste Recipes at https://www.taste.com.au/recipes/thai-prawn-papaya-salad-recipe/xbqxajgy