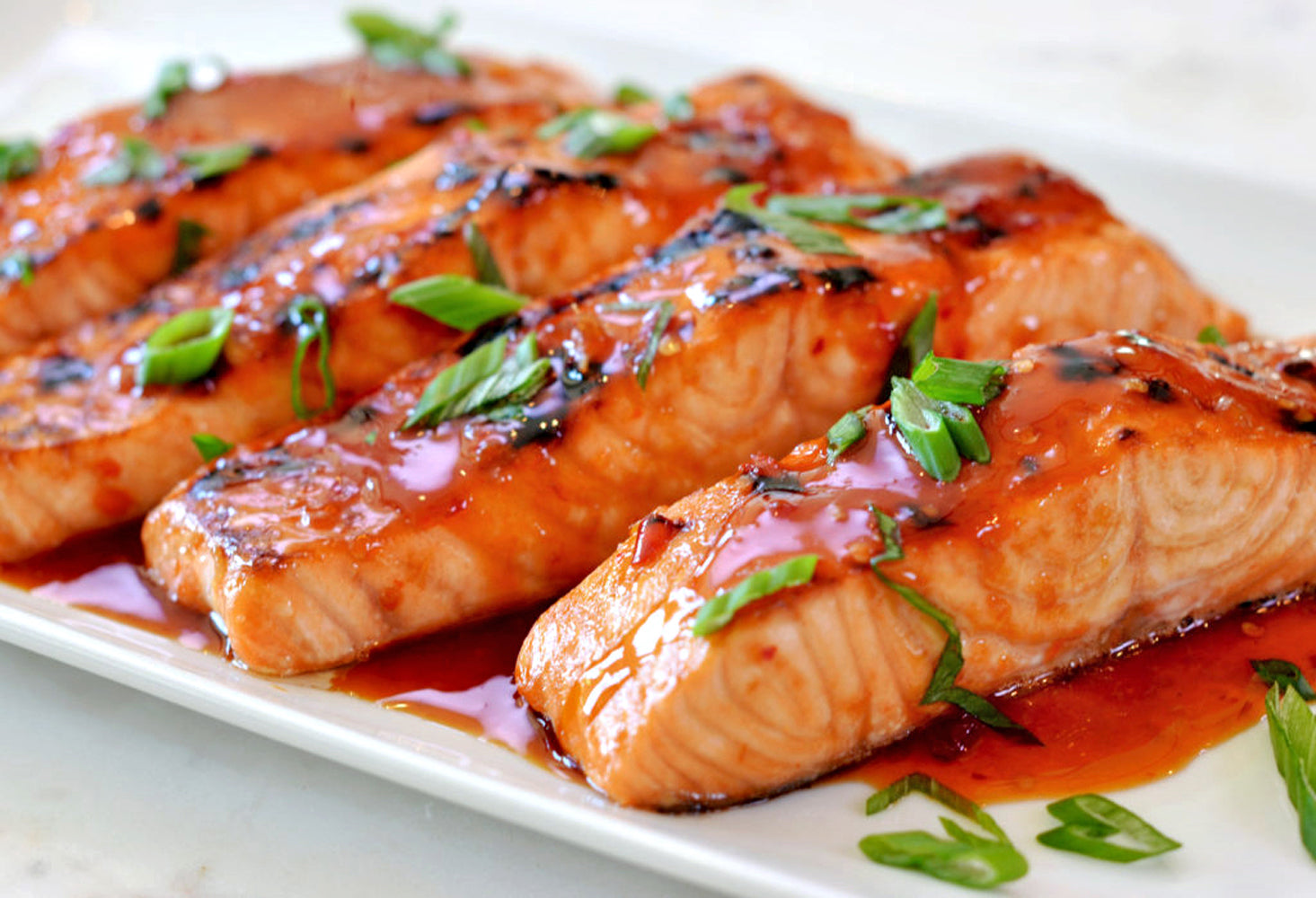 Here's a quick weeknight recipe your family will love. Salmon fillets are quickly marinated in Thai sweet chili sauce, soy sauce and ginger — and then broiled until caramelized on top. Main courses simply do not get any easier, more delicious, or elegant than this.
Prep Time
    •    Prep and cook time: 30 minutes, plus 1 hour to marinate
    •    Yield: Serves 4
Ingredients
    •    3 tbsps soy sauce
    •    6 tbsps Thai sweet chili sauce
    •    2 scallions, green parts only, finely sliced
    •    4 x 6-ounce pieces salmon, skin on or off
    •    1 tbsp peeled and finely grated fresh ginger
Method
Set the oven rack 5-6 inches from the top and preheat the broiler.


Make the marinade by combining the sweet chili sauce, soy sauce and ginger in a shallow baking dish. Spoon 1/4 cup of the marinade into a small dish and set aside (this will be the sauce for the cooked fish). Add the salmon fillets, skin side up, to the remaining marinade and marinate for 1 hour in refrigerator.


Line a rimmed baking sheet with aluminum foil and spray with nonstick cooking spray. Transfer the salmon fillets to the prepared baking sheet, skin side down, and drizzle a bit of the marinade over top. Go easy -- you don't want it to pool too much on the baking sheet because it will burn in the oven. Broil the salmon for 6-10 minutes, or until browned in spots and almost opaque in the center. Transfer the salmon to a serving platter and pour the reserved sauce over top. Garnish with scallions and serve.


This great family recipe is thanks to once-upon-a-chef Recipes at https://www.onceuponachef.com/recipes/broiled-salmon-with-thai-sweet-chili-glaze.html