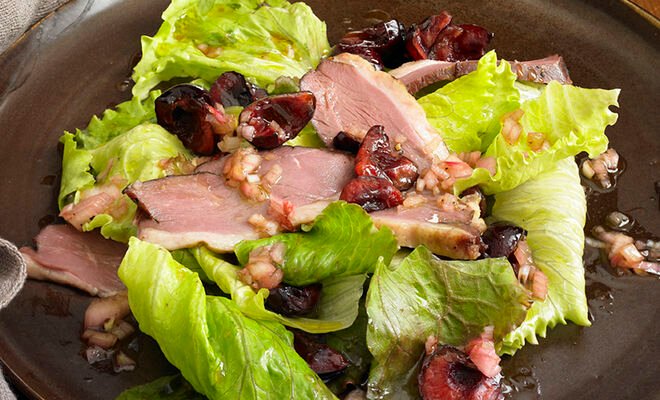 Smoked Duck & Cherry Salad
This easy smoked duck salad will work with most fruit. Try it with fresh figs and persimmons in the fall and raspberries or blackberries.
Prep Time
    •    Prep and cook time: 15 minutes
    •    Yield: Serves 2

Ingredients
    •    Salt
    •    1/2 shallot, minced
    •    2 tsps Dijon mustard
    •    2 tbsps red wine vinegar
    •    Crusty bread, for serving
    •    1/2 head firm, crisp lettuce
    •    4 tbsps extra-virgin olive oil
    •    Coarsely-ground black pepper
    •    1/4 cup chervil sprigs (Optional)
    •    1 smoked duck breast, thinly sliced
    •    1 large handful cherries, pitted and roughly chopped (about 1/2 - 1 cup)

Method
Prepare the dressing: combine the shallot, olive oil, vinegar, and mustard in a small bowl. Season to taste with salt and pepper.

Wash and dry the lettuce and tear any large leaves into bite-sized pieces. Place in a large bowl along with the cherries, dressing, and chervil, if using. Mix well.

Divide the salad among two plates and top with the sliced duck. Serve with crusty bread.
This great family recipe is thanks to D'ARTAGNAN at https://www.dartagnan.com/smoked-duck-and-cherry-salad-recipe.html