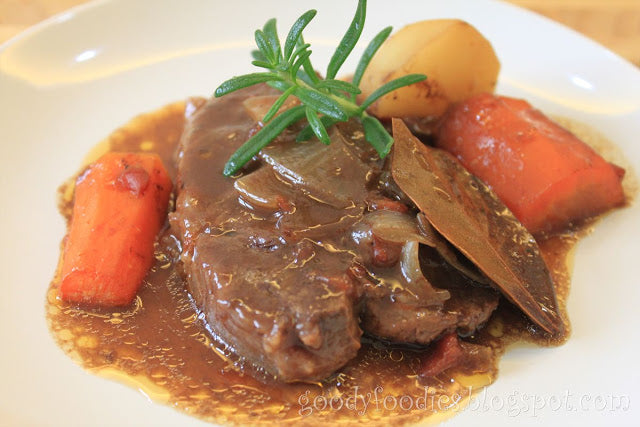 Prep Time
    •    Prep time: 15 minutes

    •    Cook time: 2 hours & 10 minutes
    •    Yield: Serves 4
Ingredients
    •    1 bay leaf
    •    1 cup beef stock
    •    1/2 cup boiling water
    •    1 tbsp all-purpose flour
    •    3 garlic cloves, crushed
    •    1 tbsp extra virgin olive oil
    •    1 1/2 tbsp balsamic vinegar
    •    Rosemary sprigs, to garnish
    •    3 tbsps tomato paste or puree
    •    Coarse salt and ground pepper
    •    1/2 lb carrots, cut into 1 1/2-inch lengths (approx. 220g)
    •    1/2 lb medium onions, cut into 1-inch chunks (approx. 220g)
    •    1/2 lb potatoes, peeled and cut into large chunks (approx. 220g)
    •    1 1/2 lb oyster blade steak (approx 700g), cut into 5cm chunks or cut into half
Method
Preheat oven to 175°C (350°F).


In a large frying pan, heat the oil over high heat. When the oil is smoking hot, add the beef to quickly sear, until the meat is browned. Do them in two batches - don't crowd the pan during browning because there will be too much steam rushing out and the meat cannot brown properly. Remove from heat and place in a heatproof casserole dish with a tight-fitting lid.


Combine tomato paste, balsamic vinegar and flour in the casserole dish with the beef. Add the carrots, onions, garlic, bay leaf, stock and water and mix well. Season with salt and pepper.


Cover with lid, and then transfer to oven, and cook for 2 hours until meat is fork-tender. Season with more salt and pepper, if desired, and then serve with rice or mash potatoes or chunky bread. Garnish with a sprig of rosemary.


You can also use a slow cooker. Place beef in a 5-quart slow cooker. Distribute tomato paste, vinegar, and flour over beef; season generously with salt and pepper. Add onions, potatoes, carrots, garlic, bay leaves, stock and water. Cover slow cooker; cook on high until beef is fork-tender, about 5 hours (or cook on low heat 8 hours).


This great family recipe is thanks to Goody-Foodies Recipes at https://goodyfoodies.blogspot.com/search?q=beef+recipe