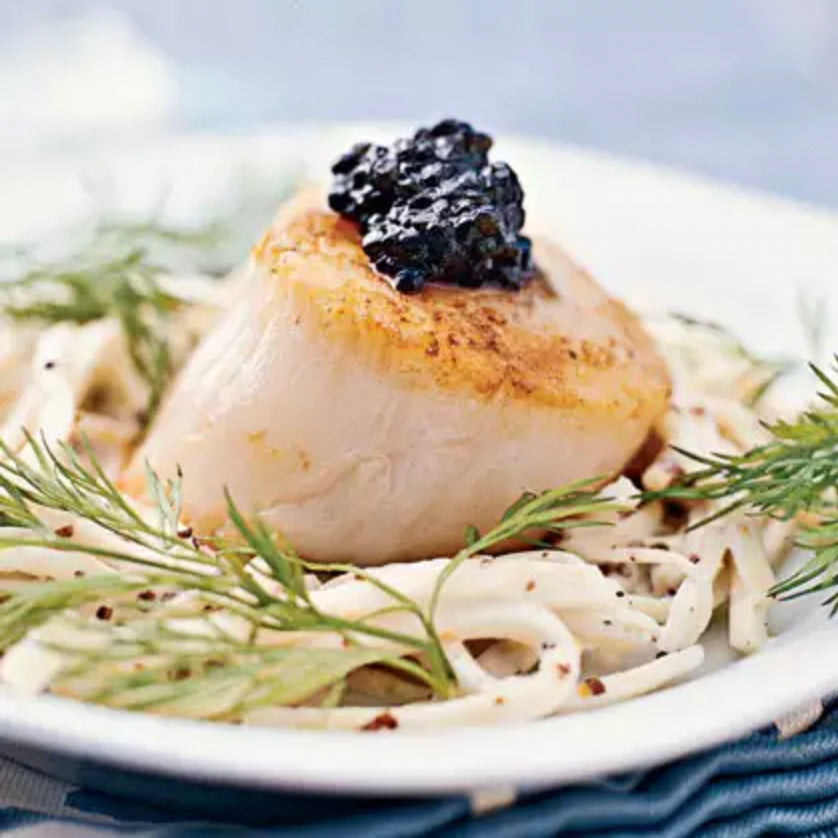 Scallops With Celery Root Salad
Plate grilled jumbo scallops on a bed of celery root rémoulade, a cool and creamy French sauce spiked with mustard. For a truly over-the-top experience, garnish each scallop with a spoonful of caviar and pair with Sauvignon Blanc.
Prep Time
    •    Prep time: 10 minutes
    •    Cook time: 25 minutes
    •    Yield: Serves 8

Ingredients
    •    1/4 tsp sea salt
    •    1 cup mayonnaise
    •    1/4 cup buttermilk
    •    2 tsps sherry vinegar
    •    2 tbsps Dijon mustard
    •    1 tbsp fresh lemon juice
    •    2 tbsps extra-virgin olive oil
    •    Garnishes: caviar, dill sprigs
    •    2 tbsps whole-grain mustard
    •    8 jumbo dry-pack fresh scallops
    •    1/4 tsp freshly ground black pepper
    •    1/4 tsp hot paprika or cayenne pepper
    •    1 large celery root (about 1 to 1 1/2 pounds), peeled and cut into thin strips

Method
Combine mayonnaise and next 7 ingredients until well-blended. Stir in celery root. Cover and refrigerate at least 1 hour.
Combine olive oil and paprika; brush on scallops. Broil, sear, or grill scallops about 1 to 2 minutes per side or until heated through.
With a slotted spoon, divide celery root evenly among 8 plates, and top each with a scallop. Garnish, if desired. Serve immediately.
A smooth, barrel-aged Sauvignon Blanc to complement the sweet scallops and creamy celery root salad. Alternative Pours: A Chardonnay or Pinot Blanc that has seen some wood. Or one of the "meritage" whites--handcrafted wines from Bordeaux grapes--being made in California, such as Caymus Conundrum.
This great family recipe is thanks to My Recipes at https://www.myrecipes.com/recipe/scallops-with-celery-root-salad