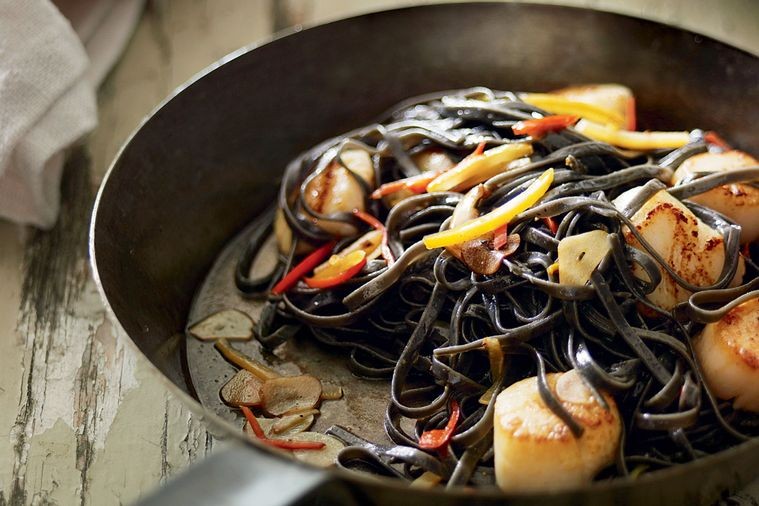 Scallop and Preserved Lemon Squid-ink Linguini
Simple scallops pair beautifully with dark squid ink linguine and preserved lemon. If you can't find an ink-stained pasta, regular linguine will work just as well.
Prep Time
    •    Prep time: 10 minutes
    •    Cook time: 20 minutes
    •    Yield: Serves 2
Ingredients
    •    2 tbsps olive oil
    •    20g unsalted butter
    •    10 scallops, roe removed
    •    2 garlic cloves, thinly sliced
    •    1 cup (250ml) dry white wine
    •    200g squid-ink or regular linguini
    •    1 long red chilli, seeds removed, thinly sliced
    •    1/4 preserved lemon pith and fresh removed, rind thinly sliced
Method
Cook the pasta in a large saucepan of lightly salted boiling water according to the packet instructions. Drain.
Heat 1 tablespoon oil in a large frypan over high heat. Season scallops, then cook for 1 minute each side until golden and just cooked through. Remove and set aside. Add remaining 1 tablespoon oil to pan, then cook garlic and chilli, stirring, for 1 minute or until golden. Add wine and butter, increase heat to high and simmer for 5 minutes until the liquid evaporates. Stir in rind and remove pan from heat.
Add the pasta to the frypan and return to medium heat. Toss gently to combine, then stir in the scallops. Season and serve.


This great family recipe is thanks to delicious Recipes at https://www.delicious.com.au/recipes/scallop-preserved-lemon-squid-ink-linguini/ffe67e7e-dbec-4be4-9e4e-d314f4d8a1aa?r=recipes/collections/octopussquidrecipes&c=92d3acdf-e928-463f-a235-04d87eec849f/the%20best%20octopus%20and%20squid%20recipes