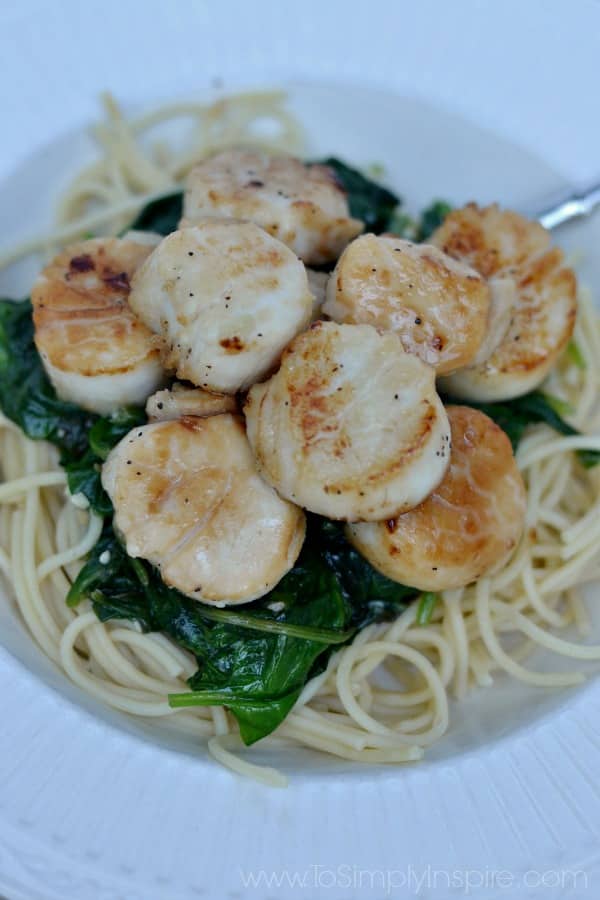 Quickly prepare this delicious, healthy meal in less than 20 minutes. It's flavored with just the right amount of garlic and lemon juice.
This dinner is one of the fastest meals ever to make! Literally 15 minutes max. Start boiling water to cook the pasta. While that's heating, rinse the scallops and pat them dry. While the pasta is cooking, saute the scallops. (I used gluten-free pasta).  As you can see, I also made sauteed spinach too and served all the yumminess together.
Prep Time
    •    Prep time: 5 minutes
    •    Cook time: 4 minutes
    •    Yield: Serves 4

Ingredients
    •    1 lb. scallops
    •    juice of 1/2 a lemon
    •    4 cloves garlic minced
    •    1 tbsp coconut oil or olive oil or butter

Method
In a medium size saucepan, heat coconut oil over medium-high heat.
Pat the scallops dry.
Add minced garlic to the saucepan.
Add scallops, cook for approximately 2 minutes on each side (or until desired consistency)
Squeeze the juice of ½ a lemon over top.
Serve over pasta of choice and drizzle with a little olive oil and more lemon juice. Enjoy!
This great family recipe is thanks to To Simple Inspire at https://www.tosimplyinspire.com/sauteed-scallops-recipe.html?utm_campaign=yummly&utm_medium=yummly&utm_source=yummly