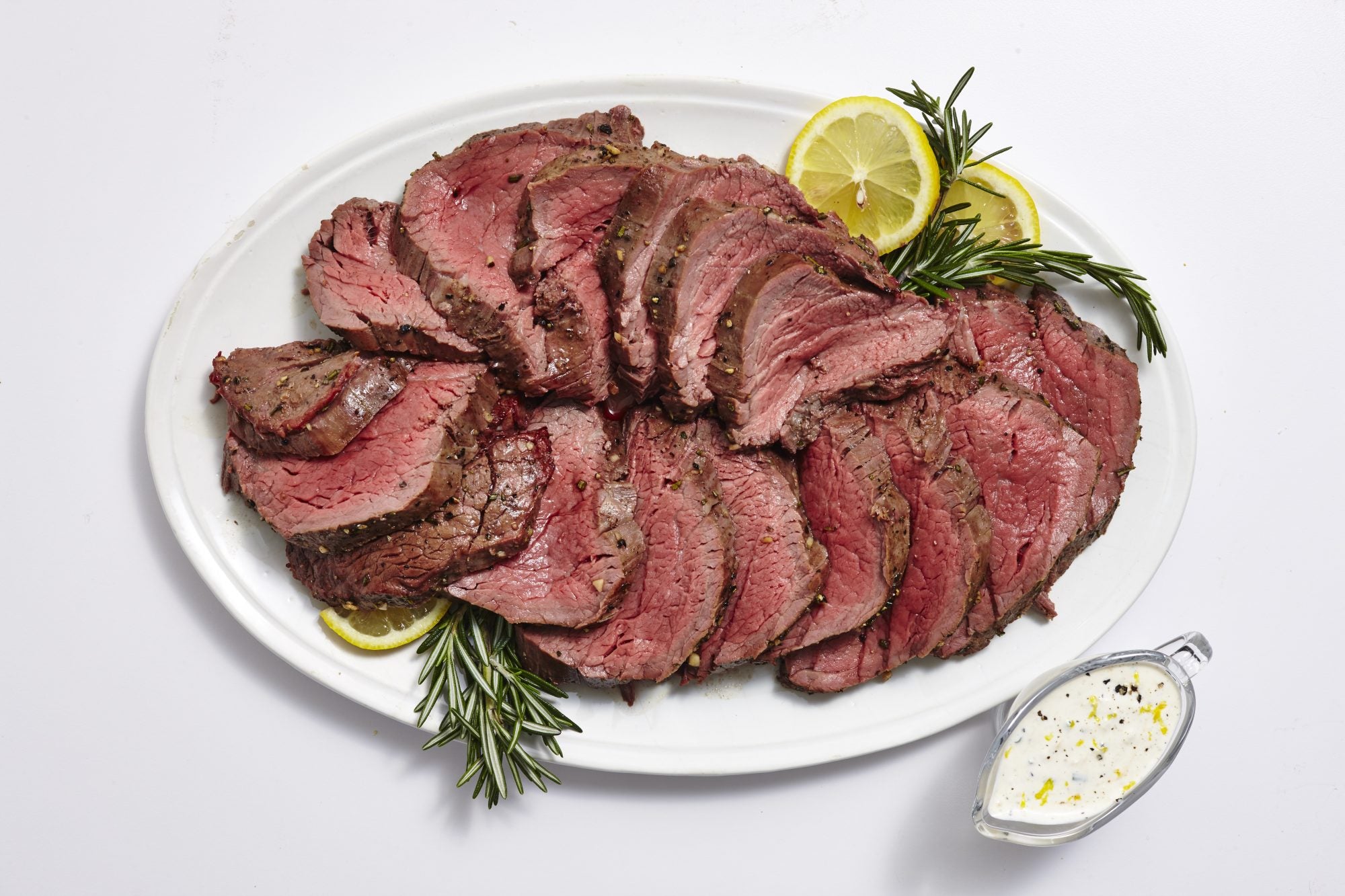 Roast Beef Tenderloin with Garlic and Rosemary
In this beef tenderloin roast recipe, the meat is seasoned with a garlic and rosemary paste, then seared in a cast-iron skillet and finished in a low oven. High-heat searing builds deep flavor by browning the well-seasoned exterior, while low-temperature (250°) roasting creates an evenly cooked, juicy interior with little risk of overcooking.
It's truly the best of both worlds. But it gets even better when you top off these thick slices of medium-rare beef with a tangy horseradish yogurt, a drizzle of rosemary infused butter, and a hearty sprinkle of salt.
Prep Time
    •    Prep time: Let tenderloin sit at room temperature at least 1 hour and up to 2 hours before cooking
    •    Cook time: 50 minutes
    •    Yield: Serves 8

Ingredients
    •    2 garlic cloves
    •    1/3 cup sour cream
    •    1 tbsp vegetable oil
    •    3 tbsps unsalted butter
    •    flaky sea salt (for serving)
    •    2 tbsps prepared horseradish
    •    1/2 tsp finely grated lemon zest
    •    kosher salt, freshly ground pepper
    •    1 cup plain whole-milk Greek yogurt
    •    2 tbsps rosemary leaves, plus sprigs
    •    1 x 4 pounds trimmed center-cut beef tenderloin

Method
Thinly slice garlic, then mash into a paste using the side of a chef's knife. Scatter rosemary leaves over garlic; finely chop and mix into garlic. Slice tenderloin in half crosswise to create 2 smaller roasts. Season generously with salt and pepper; rub with garlic-rosemary paste. If your butcher didn't already tie the roast for you, this is the time to do it: Place tenderloin onto lengths of precut kitchen twine spaced about 1" apart and tie closed snugly. Place on a rimmed baking sheet and chill uncovered 12 hours.
Let tenderloin sit at room temperature at least 1 hour and up to 2 hours before cooking.
Preheat oven to 250°. Heat oil in a large ovenproof skillet over medium-high. Add tenderloin and cook, turning occasionally, until well browned all over, 8–10 minutes. Transfer skillet to oven and roast tenderloin, turning every 10 minutes or so, until an instant-read thermometer inserted into the thickest part registers 120°, 25–30 minutes. Transfer tenderloin to a cutting board and let rest 15 minutes before removing kitchen twine and slicing. Reserve skillet.
Meanwhile, mix yogurt, sour cream, horseradish, and lemon zest in a small bowl to combine; season with salt and pepper.
Cook butter and rosemary sprigs in reserved skillet over medium heat, scraping up browned bits on the bottom, until butter is melted and very fragrant, about 4 minutes. Transfer sliced tenderloin to a platter; drizzle with rosemary-infused butter and sprinkle with sea salt. Serve with horseradish yogurt.
Do Ahead: Tenderloin can be seasoned and chilled 2 days ahead; wrap in plastic wrap after 12 hours. Horseradish yogurt can be made 1 day ahead; cover and chill.
This great family recipe is thanks to Bon Appetit at https://www.bonappetit.com/recipe/roast-beef-tenderloin-with-garlic-and-rosemary