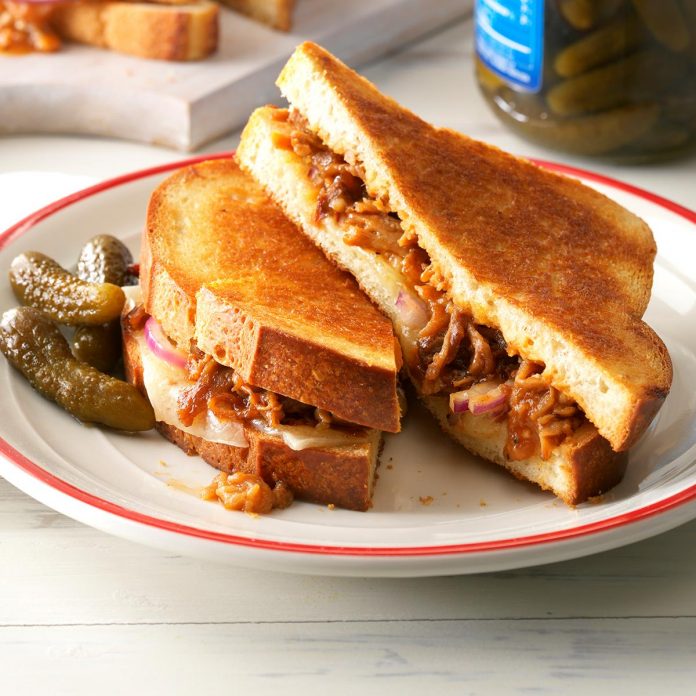 Pulled Pork Grilled Cheese
My family combined two of our favorite things: pulled pork and grilled cheese sandwiches. This recipe is super fast and easy when you use store-bought pulled pork.
Prep Time
    •    Prep time: 5 minutes
    •    Cook time: 25 minutes
    •    Yield: Serves 4
Ingredients
    •    1/4 cup mayonnaise
    •    1 garlic clove, minced
    •    8 slices country white bread
    •    1 small red onion, thinly sliced
    •    1 carton (16 ounces) refrigerated fully cooked barbecued shredded pork
    •    6 ounces sliced Manchego cheese or 8 slices Monterey Jack cheese
Method
Heat shredded pork according to package directions. Stir in garlic. Layer four slices of bread with cheese, onion, pork mixture and remaining bread. Spread outsides of sandwiches with mayonnaise.

In a large nonstick skillet, toast sandwiches in batches over medium-low heat until golden brown and cheese is melted, 2-3 minutes per side.


This great family recipe is thanks to Taste-of-Home Recipes at https://www.tasteofhome.com/recipes/pulled-pork-grilled-cheese/