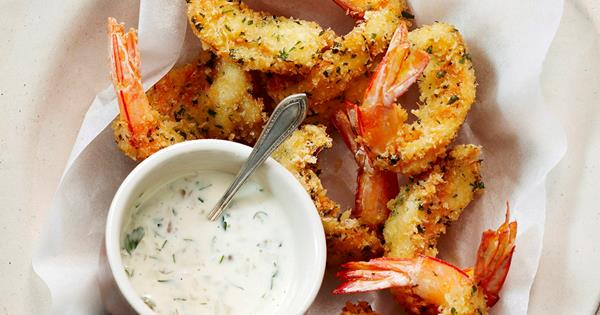 Prawn cutlets make an ideal first course or light meal. This is a particularly crisp, tasty batter thanks to the panko crumbs, parmesan and herbs. Serve as soon as they are cooked.
Prep Time
    •    Prep and Cook Time: 35 minutes
    •    Yield: Serves 6
Ingredients
    •    oil for deep-frying
    •    1 egg, lightly beaten
    •    3/4 cup seasoned flour
    •    1/4 cup finely grated parmesan
    •    tartare sauce, lemon wedges, to serve
    •    3/4 cup panko (Japanese dried breadcrumbs)
    •    500g green prawns, peeled deveined, tails intact
    •    2 tbsps finely chopped herbs (such as parsley, basil)
Method
Butterfly prawns by running a sharp knife down the back of each prawn.
Dust prawns in flour, shaking off excess. Dip into egg, then press into combined panko, parmesan and herbs. Arrange on tray and chill 5 minutes.
Half-fill a large saucepan with oil and heat until a cube of bread sizzles as soon as it is added.
Deep-fry prawns, in 4 batches, 3-4 minutes each, turning, until crisp and golden. Drain on paper towels. Serve with tartare sauce and lemon wedges.


This great family recipe is thanks to Women's Weekly Food Recipes at https://www.womensweeklyfood.com.au/recipes/prawn-cutlets-14678